Communication
Communication is the beating heart of project collaboration in Bricsys 24/7. In your profile you can review your Communication preferences.
Types of communication
In Bricsys 24/7 we have four types of communication
Notifications
Notes
Annotations
Messages
Notifications
Easily inform other project members that can view the item about it. Typical examples are sending a notification about a newly uploaded document, a selection of documents etc.
Add the recipients, just like you would do for an email, write a subject and a message. The recipients will receive an email with your message and the items you are referring to.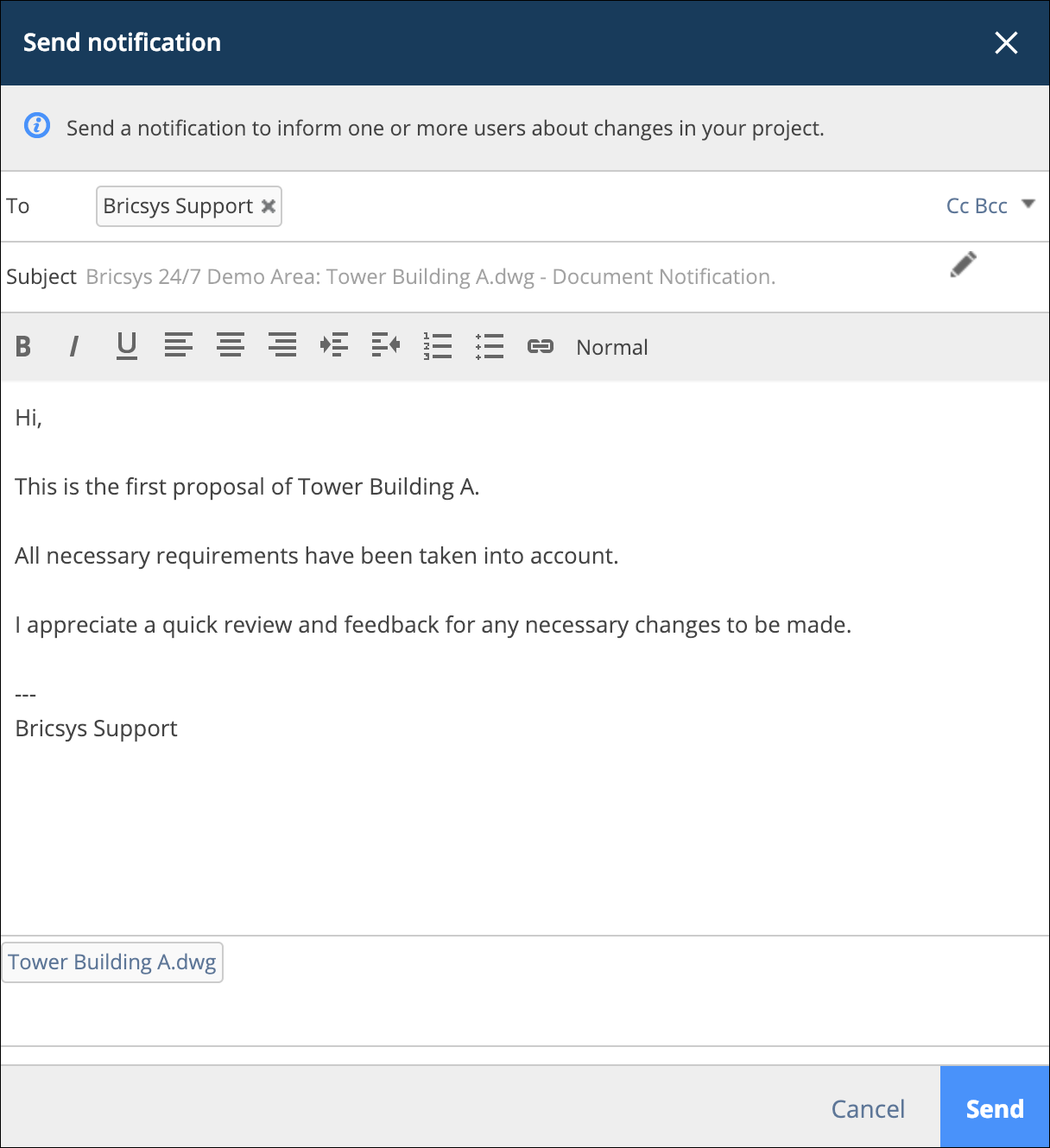 Notes
Just like sticky notes, a note is visible over all the revisions of a document. You can use private notes or public notes.
Private note
When you select members of the project in the note, the note becomes private and only those who are a recipient of a note can view the note.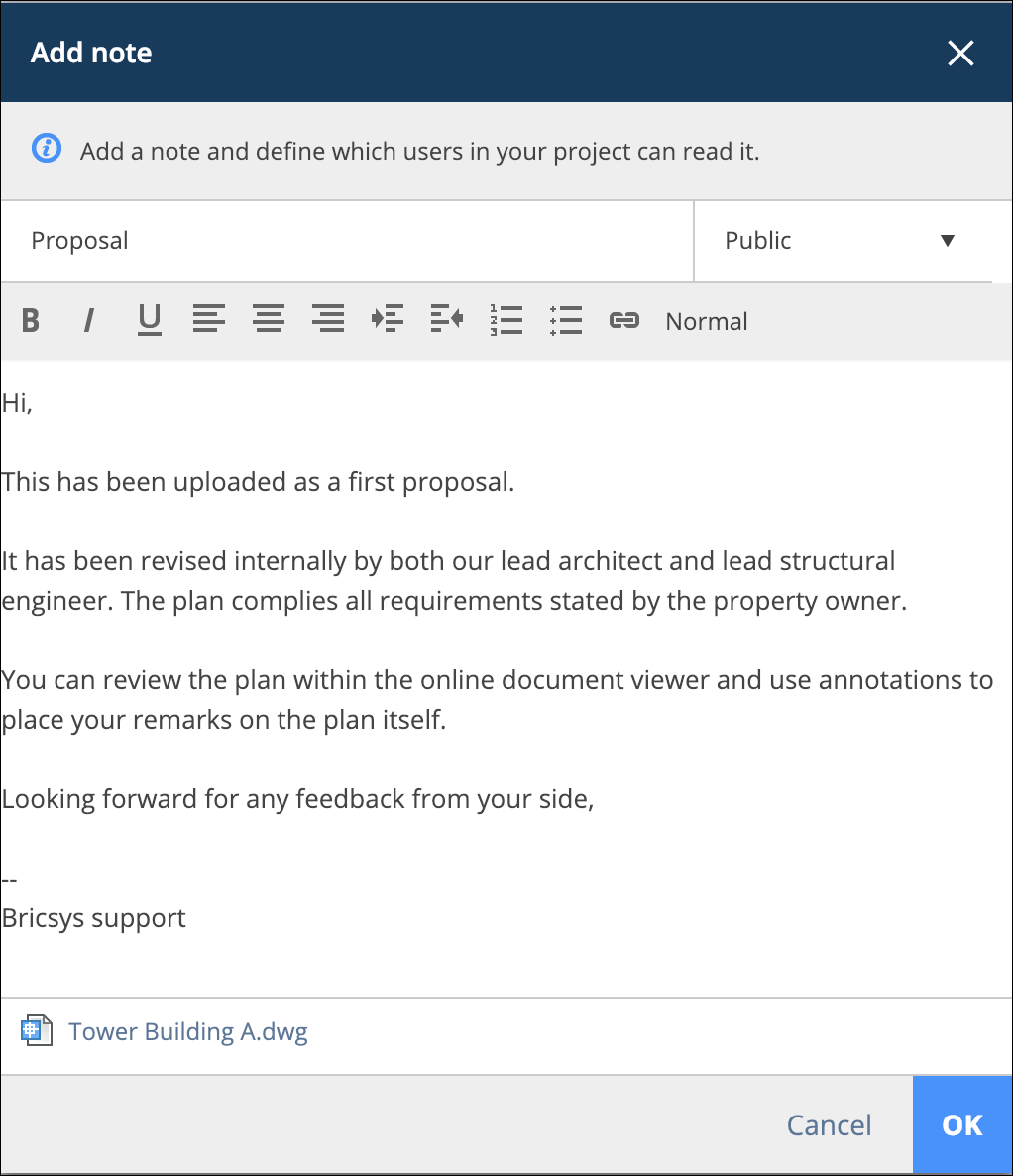 Note that administrators can enable a feature allowing them to view all communications, including private communication.
Annotations
A great way to mark an area of a document and comment about it. Annotations can only be created in our online viewer. Simply choose the type of annotation you want to add, select the area and add your message.
By default only a subject is shown, click on the more link to add a description to your comment.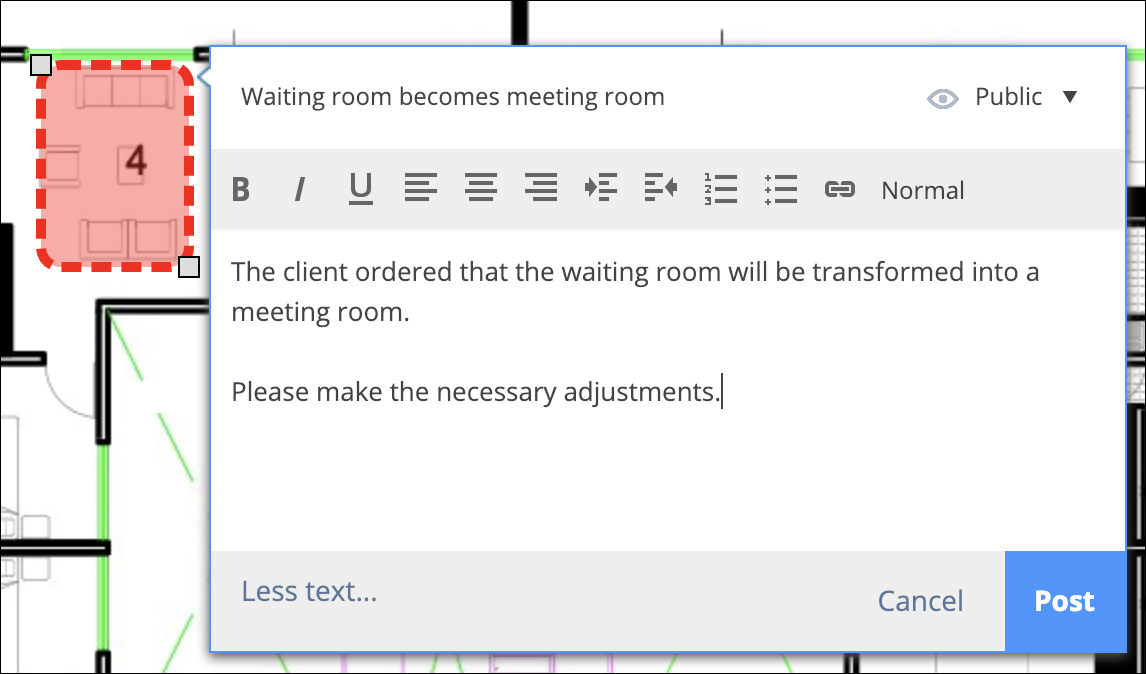 You can send private annotations that are visible only for selected users, or public annotations that can be seen by all users who have access to the document.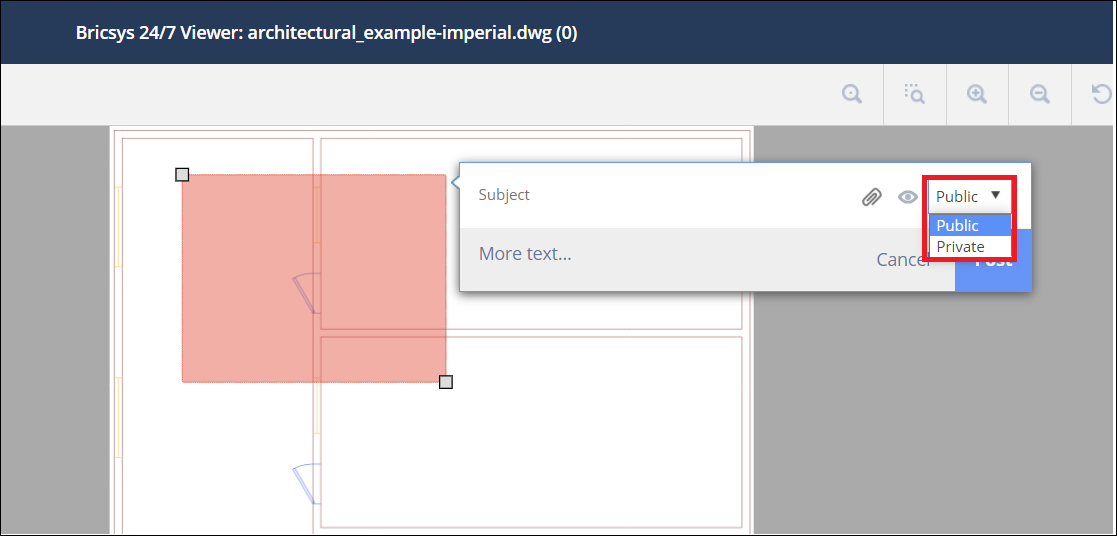 Annotations are revision based, this means you cannot see the annotation of previous revisions when viewing the latest version of the document.
Messages
Messages works just like your email does but it doesn't get lost, keep track of your emails. It's a great way to communicate effectively with other project members and not lose the information.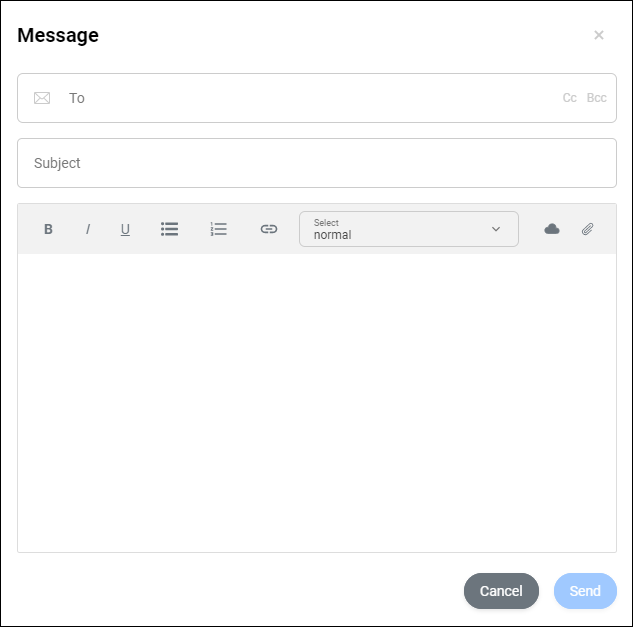 The administrator of the project can also enable email forwarding for a specific email address. This makes it possible to send an email to the specific email address and have the email appear in Bricsys 24/7.
Recipients
Keep in mind that only project members who can view the item will be selectable. Simply type the name of a project member or select one of the mail lists setup by the project administrator.
After selecting a mail list, you can click on the list to deselect certain members.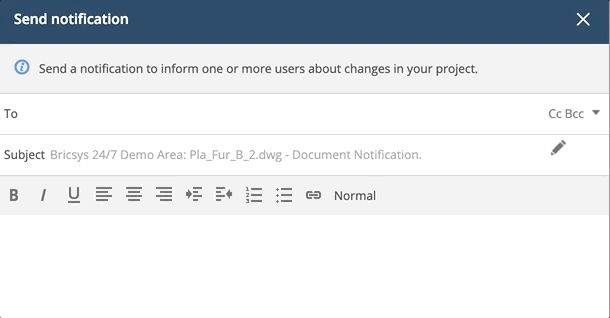 If you cannot send a notification or assign members in a note or mail message, this means that the administrator of the project did not give you access to communicate with other members of the project.
Communication preferences
Easily let Bricsys 24/7 know which communication you wish to receive in your inbox and when.
Open the profile dialog by clicking on the picture on the right top corner of Bricsys 24/7.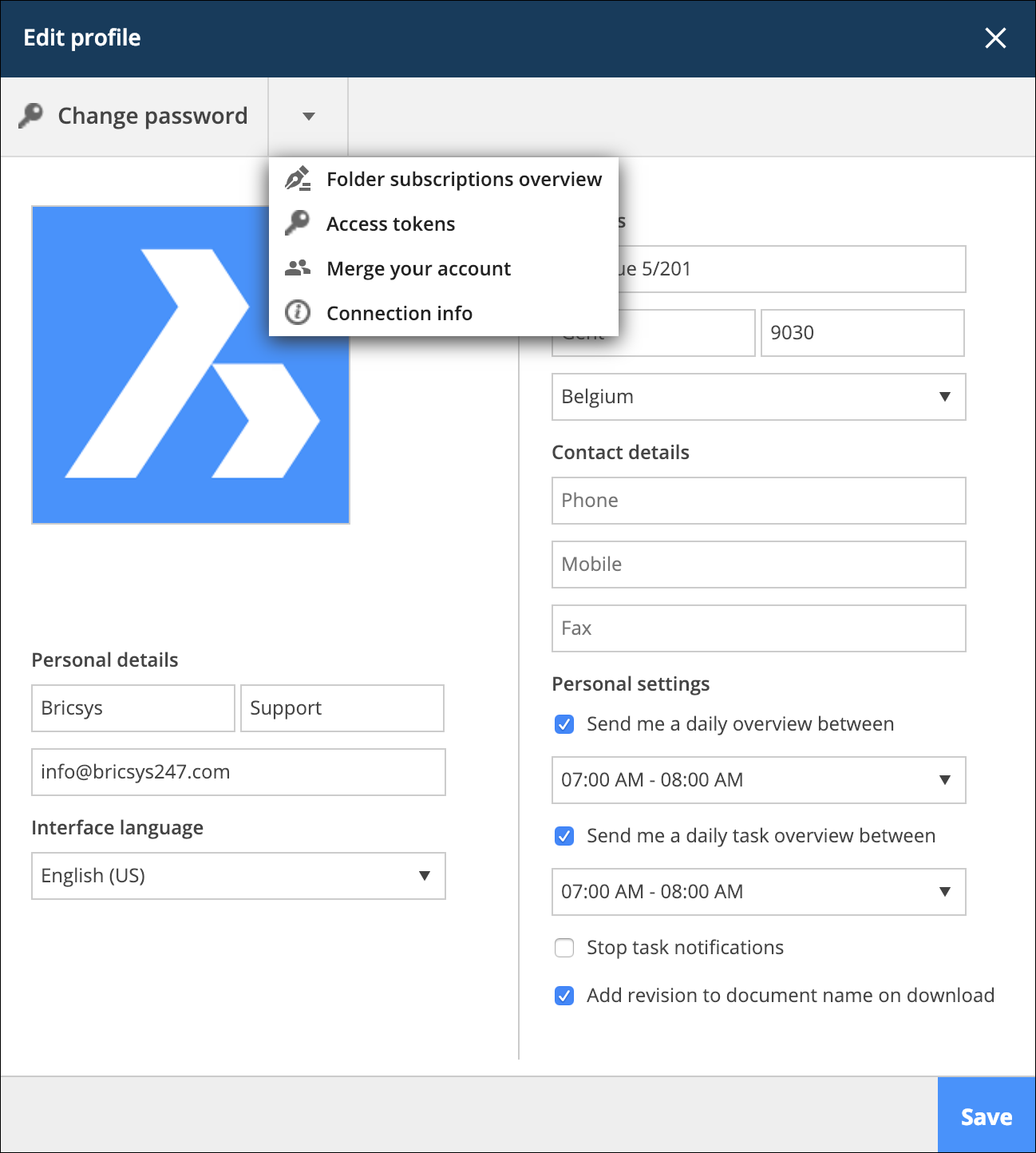 Daily overview

The daily overview email informs you of all the newly added documents you can view in Bricsys 24/7.
Daily task overview

Receive an overview of all your open tasks in Bricsys 24/7.
Stop task notifications

By checking this option you will not receive an immediate email with the task that is assigned to you.
Subscriptions

In the action menu of your profile settings you can view and edit your subscriptions. You need to be logged into a project to view the subscriptions action.

The subscriptions are folder based per project, you can add or remove folders and indicate when you wish to receive an email.
Administrator subscriptions

Some subscriptions cannot be removed because they are enforced by the administrator of the project.

In the example above, both "Airport models" and "Building models" cannot be unsubscribed by the user since the administrator has set the subscription.