Profile Settings
Click on the profile picture/avatar in the top-right corner of the Bricsys 24/7 screen. Here you can edit your profile settings.
Attention:
If you cannot edit this information, it means that the administrator did not give you the rights to edit your profile.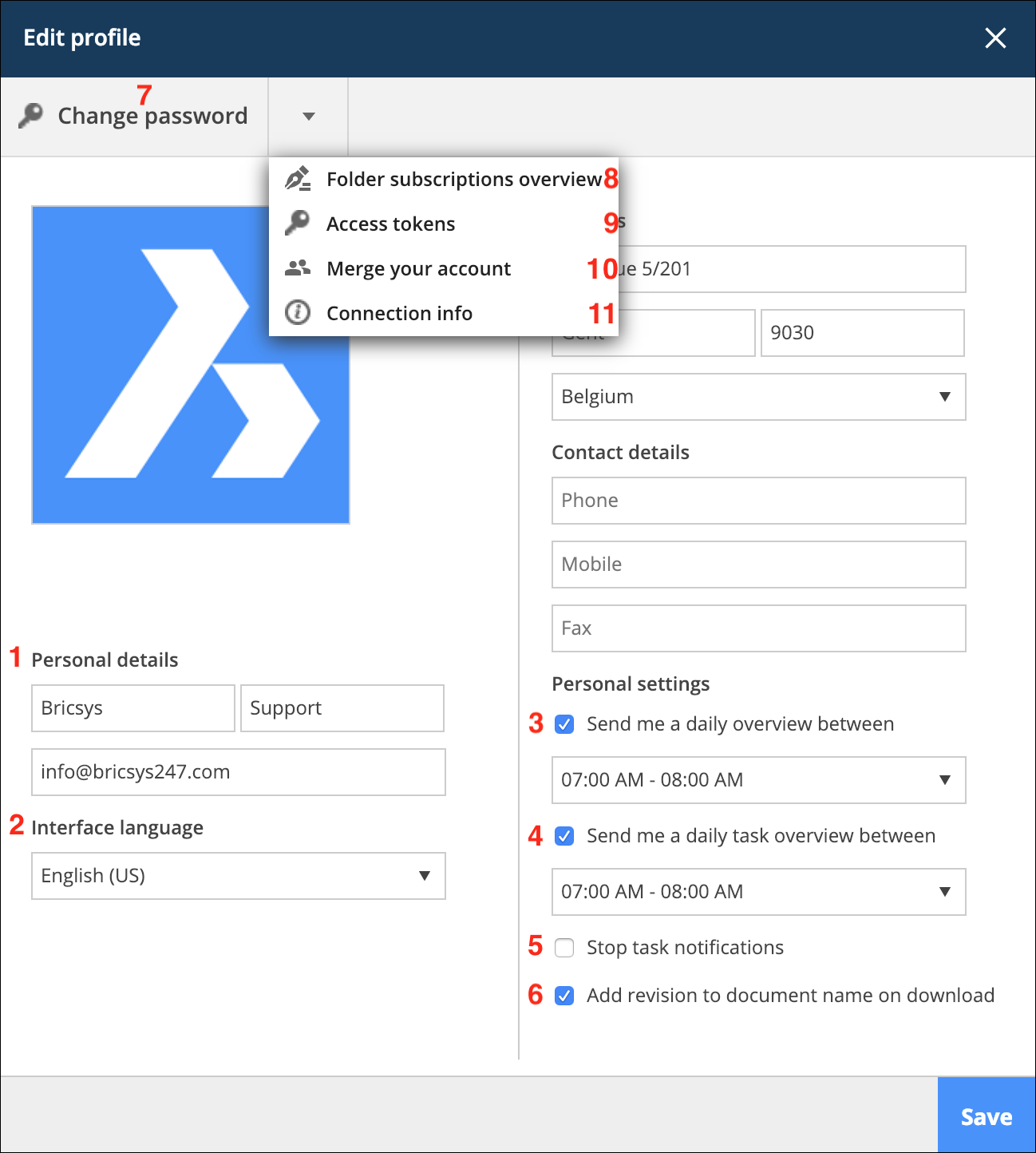 1. Edit personal details
Edit or fill in your personal details, avatar, address and/or contact details. If your email address has changed you can change it here to login with the new email address.
2. Choose your interface language.
Change the interface of Bricsys 24/7 to your preferred language.
3. Send me a daily overview
If you want a daily mail with all your notifications.
4. Send me a daily task overview
If you want a daily mail with all your open tasks.
5. Stop task notifications
If you do not want to get an e-mail notification when you are assigned to a new task.
6. Add revision to document name on download
If you want to add the revision to the document name when downloading. The revision will be added after the document name: document-revision.extension
Example: document named "PL_HVAC_001.dwg" with 3 revisions: A, B & C. When downloading the document it will be saved as "PL_HVAC_001-C.dwg"
7. Change your password
If you want to change your password.
8. Folder subscription overview
This option is only available once you log into a project.
When you subscribe to a folder, you will get a notification e-mail when something changes (upload, new revision, edit of a document…) in this folder.
The administrator of your project can also subscribe you to certain folders. These subscriptions cannot be undone, only the administrator has to right to update these.
9. Access tokens
For advanced users only. If you have a third party application that needs to connect to Bricsys 24/7 via our REST api, you can create a token here so you don't have to give your personal credentials (username and password) for the application to log in to Bricsys 24/7.
The application will have the same access using the token as yourself.
Once created you are also able to revoke the token, disabling the access for that application to Bricsys 24/7.
10. Merge your account
Merge the Bricsys 24/7 account you're logged in with, with another Bricsys 24/7 account by entering the username and the password of the other account.
11. Connection info
If you want to find basic information about your connection to Bricsys 24/7 you can use this action. Your download speed, browser, operating system will be shown here. Especially useful when you are submitting a new support request so our team has a better understanding of your local environment.