Project Structure
The Structure app is a powerful document management tool. It shows all the folders and subfolders of the project you have access to.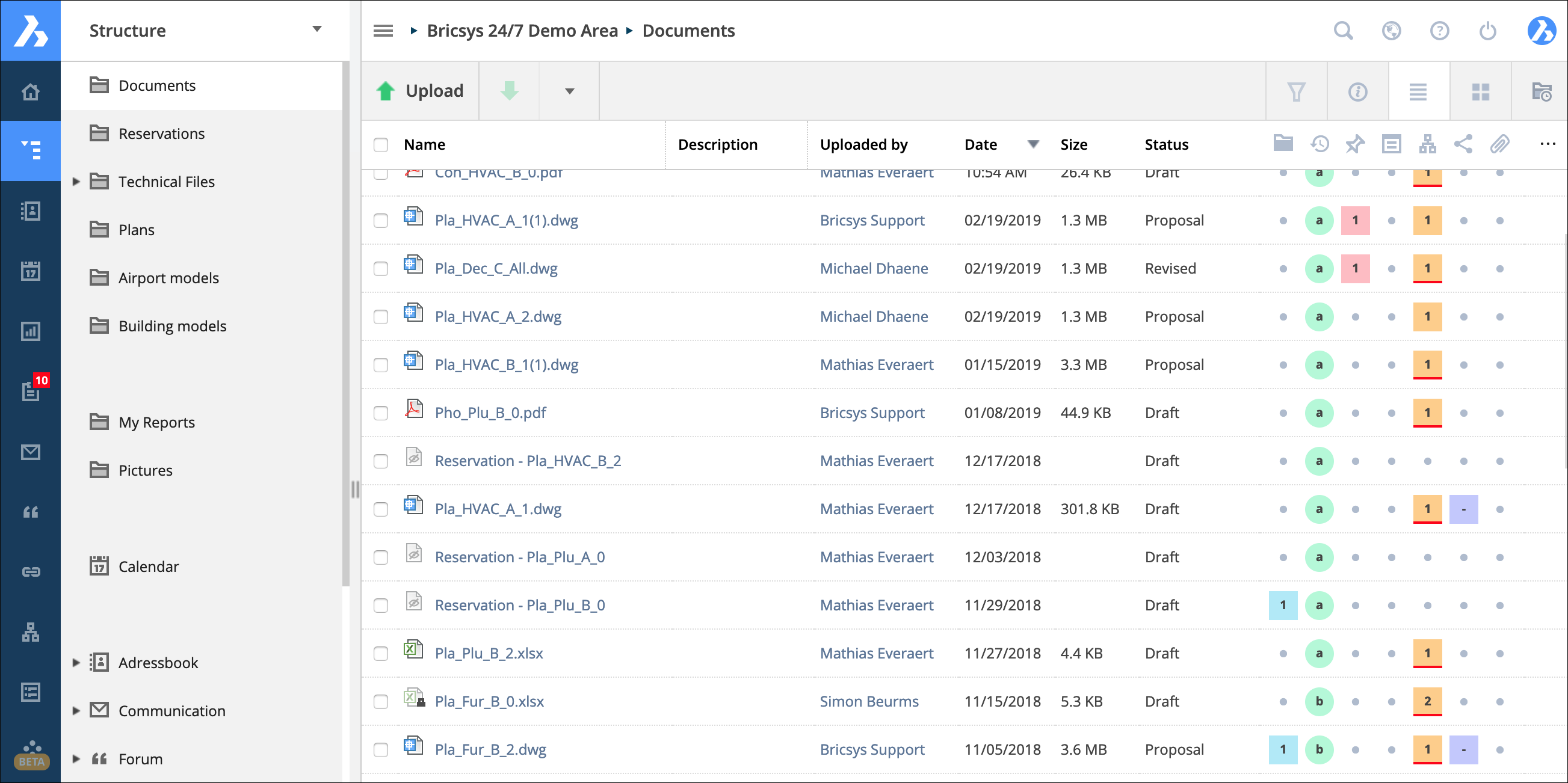 This is the most important and most frequently used app on Bricsys 24/7.
Document & Binder folders
The Structure app is the only app that allows you to go through your project tree and view document and binder folders.
Project tree
The project tree shows the folder structure as set up by the administrators of the project.
Folder types
There are different folder types and each folder type has its own objects and related app in the app bar.
| Folder Icon | Folder Type | Content | Related App |
| --- | --- | --- | --- |
| | Document folder | Documents | Structure App |
| | Address book folder | Contacts and organizations | Address book App |
| | Workflow folder | Workflows | Workflow App |
| | Message folder | Messages | Message App |
| | Calendar folder | Events | Calendar App |
| | Form folder | Forms | Forms App |
| | BIM folder | Documents, BIM DWG and BIM IFC | BIM App |
| | Link folder | URL-Links | Links App |
| | Forum folder | Threads and posts | Forum App |
| | Binder folder | All kinds | Structure App |
App Content

After selecting a folder, the app content will load the objects of the selected folder. Because there are different folder types in the project tree, the content will adapt to the selected folder type.
Column selector

At the end of the table headers there's a "..." icon that you can use to show or hide certain columns. When working with metadata, the extra metadata columns are displayed here as well.
Project info
The project information dialog gives you an overview of each folder and the possibility to download an Excel file with the documents in the entire project or selected folders.
Click the drop-down arrow on top of the folder structure and choose the option "Project Info" to open the project information dialog.