Tasks
Tasks are part of a process that was set up by an administrator of the project using workflows. A task is an activity assigned to a project member.
You can find your tasks in
Dashboard
My Tasks
Document details
and change your task Communication preferences in the profile dialog.
Dashboard
The dashboard app shows you the open and overdue tasks you are assigned to. Click on the task to open the details for the task.

My Tasks
In the My Tasks app on your left you can easily view all the open tasks that are assigned to you.
Each task shows the question that is asked and a selection of predefined answers you can choose from.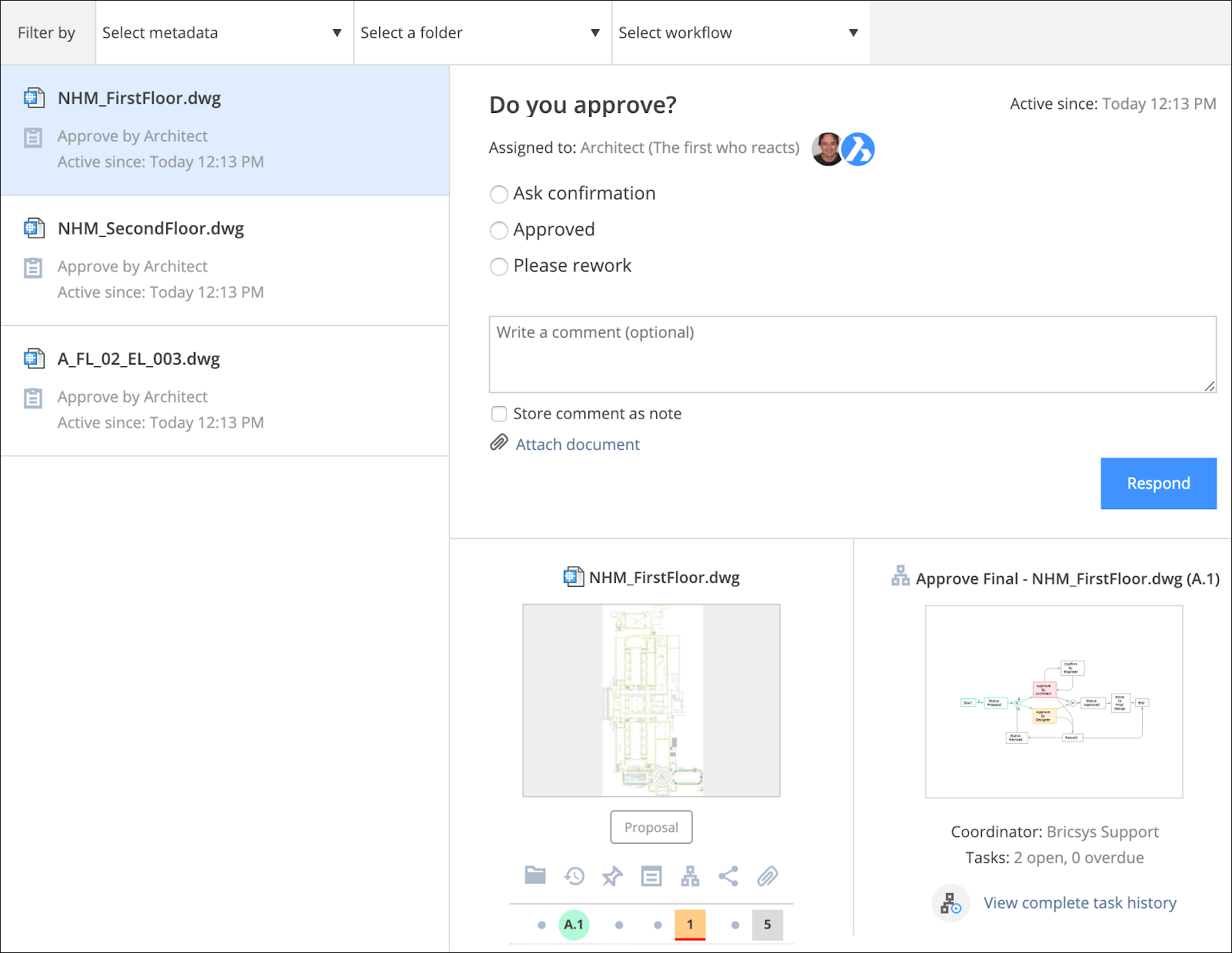 Comments

For each task, you can add a comment in case you wish to clarify your answer.
Attachments

You can add documents from your local machine or from Bricsys 24/7 related to the answer to your task.

On the bottom of the task, you find the document the task is attached to and the workflow the task is part of.
Document

Click on the document preview to open the document in our online viewer or the document name to open the document details.
Workflow

For those interested, you can also view the workflow of which this task is part of and see the history of all the tasks executed before you.
Filter

Do you have too many open tasks and need to focus on a specific set of documents first? It's possible to filter your tasks by metadata, folder, and even workflow. On the top panel of the app, you'll find the filter options.
Completed tasks
If you wish to view your finished tasks, simply click the "Completed tasks" section on the left of the My Tasks app.
Document details
When viewing the details of a document, navigate to the workflows tab to view active workflows and check if you are part of a task to be executed.
Click the Respond button to open the task and reply to the task assigned.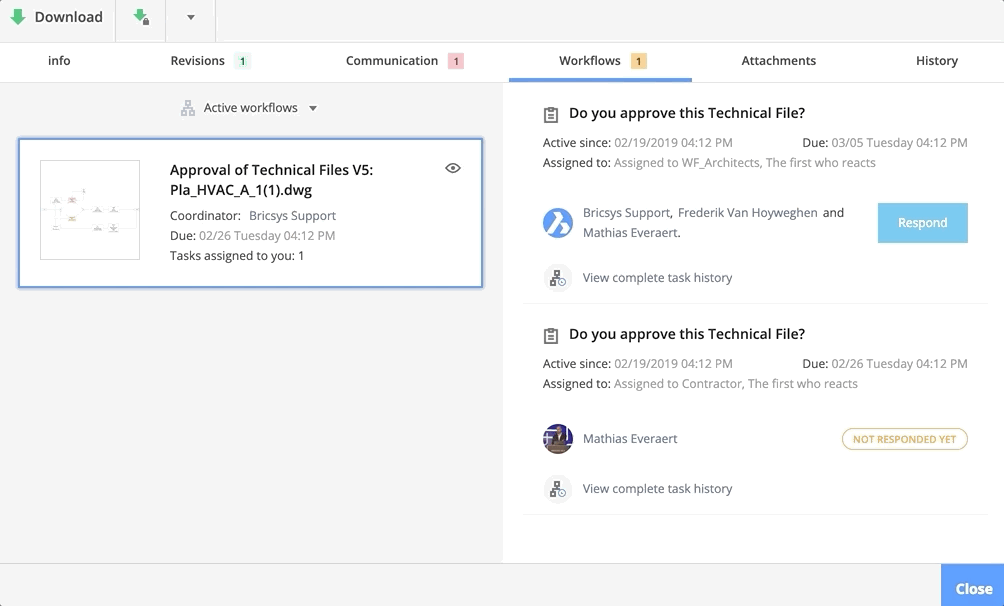 Communication preferences
In the profile dialog you can select to receive a daily task overview and not to receive task emails.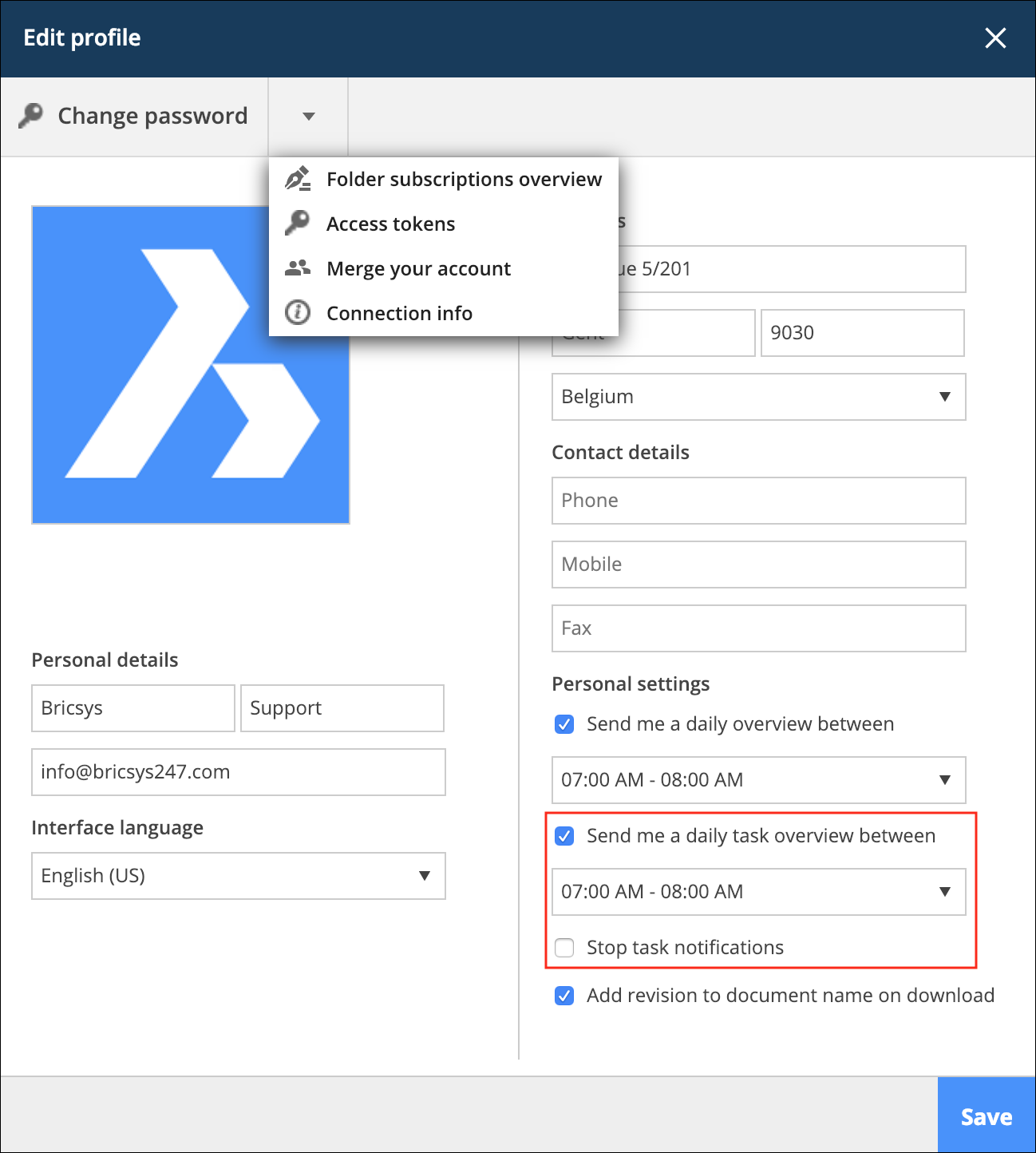 Daily task overview

Check this box and a time when you wish to receive a daily email in your inbox about all your open tasks over all the projects in Bricsys 24/7.
Stop task notifications

If you do not wish to receive task notifications.