PROJECTGEOMETRY command
Projects 2D geometry.

Icon:

Description
Projects 2D geometry onto regions, surfaces, or 3D solids to create additional edges (line work).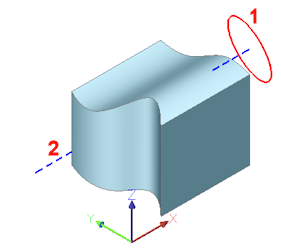 (1) 2D entity; (2) 3D solid; blue line = projection direction; pink tube = projection; yellow curves = new edges
Options within the command
set PROjection direction

Defines the projection direction. By default, 2D geometry is projected orthogonally onto the receiving entity.
View

Sets the projection direction perpendicular to the current view orientation.
UCS

Uses the Z-axis of the current UCS.
Points

Specify the start and end point of the projection direction.