Content browser panel
The Content Browser panel offers you a quick and convenient way to open drawings, manage your block libraries, copy dimension styles, place views for your entire .dwg files stored on your computer.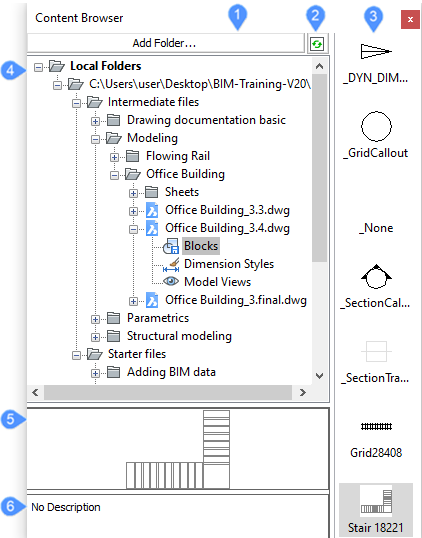 Add folder…
Displays the Choose a folder dialog box.
Refresh
Select a drawing and press the Refresh button to expand its content (Blocks, Dimension Styles, Model Views).
Definitions in the selected drawing
Select Blocks/Dimension styles/Model views to see the definitions used within the drawing.
You can drag & drop a block onto the current drawing and an Insert Block dialog box will appear.
You can drag & drop a dimension style into the current drawing. If a dimension style with the same name already exists, a Copy / Paste dialog box will appear.
Local Folders tree
Displays the content of a drawing/project. Right-click menus enable you to add or remove folders from within the Folders tree.
Definitions' preview
Shows a preview of your drawing/block/dimension style.
Description
Displays a description of your selected definition.