Toggles the apparent intersection entity snap, which snaps to the intersections of entities, even when they only appear to be intersecting in 3D space.
Accessing the Command

command bar: 2dintersection
transparent: 2dintersection
aliases: apparent
planviewint
toolbar: Entity Snaps |


ribbon: Home | Entity Snaps | Snap to Apparent

: 2dintersection
Displays no prompt in the command bar. Each time you enter the command, it toggles the entity snap: on, then off, then on, and so on. Keep an eye on the Entity Snaps toolbar to see if this entity snap is on or off.
This entity snap snaps to intersecting entities, including those that appear to intersect in 3D space: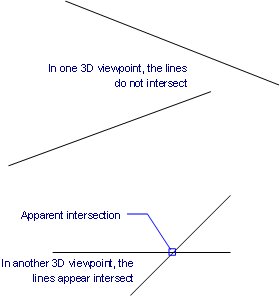 When 2dIntersection entity snap is on, the cursor snaps to the real and apparent intersections of entities.

Command Option
Option

Description

2dIntersection

Entering this command toggles apparent intersection entity snap on and off.

This command can be entered transparently during commands, but must be entered without the transparency apostrophe prefix ( ' ).
Procedures
Related Commands
OSnap - toggles entity snap modes through the Settings dialog box.
-OSnap - toggles entity snap modes at the command prompt.
Aperture - sizes the aperture cursor for entity snaps.
3dIntersection - toggles intersection snap mode.
Apparent - toggles apparent intersection snap mode, like 2dIntersection.
Center - toggles center snap mode.
Endpoint - toggles endpoint snap mode.
Extension - toggles extension snap mode.
From - enters coordinates relative to a reference point.
GCenter - toggles geometric center entity snap.
Insertion - toggles insertion snap mode.
Intersection - toggles intersection snap mode.
Mtp - specifies a point midway between two other points.
Midpoint - toggles midpoint snap mode.
Nearest - toggles nearest snap mode.
Node - toggles node (point) snap mode.
None - turns off all entity snap modes.
Parallel - toggles parallel snap mode.
Perpendicular - toggles perpendicular snap mode.
Quadrant - toggles quadrant snap mode.
Tangent - toggles tangent snap mode.