* Command only available on the Windows platform
Exports the current view to a file in WMF, EMF, or SLD formats (short for "windows metafile output").
Accessing the Command
command bar: wmfout
alias: wo
Before using this command, set the viewport the way you wish it to be saved.
: WmfOut
Displays a dialog box: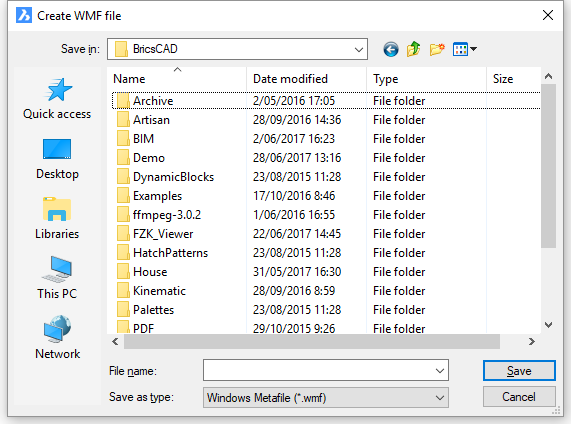 Enter a file name

Choose a file type

Click Save
WMF, EMF, and SLD files can be viewed in the current viewport with the VSlide command.
Dialog Box Options
Option

Description

File name

Specifies the name of the slide (snapshot).

Save as type

Specifies the file format:

SLD - compatible with AutoCAD
EMF - enhanced WMF format
WMF - Windows meta format, a hybrid of vector and raster formats

The PictureExportScale preference sets the scale factor when exporting to WMF or EMF.

Save

Saves the file.
Related Commands
BmpOut - exports drawings in BMP format.
Export - exports drawings in BMP, DWF, DXF, DWT, PDF, WMF, EMF, SLD, and older DWG formats.
MSlide - exports drawings in WMF, EMF, and SLD formats.