Choose your license level
BricsCAD licenses are available in 6 levels: Classic, Pro, Platinum, BIM, Mechanical and BricsCAD Ultimate.
BricsCAD Classic
If you create general 2D designs, the Classic license may be right for you. Compared to AutoCAD® LT, it also allows to view and edit 3D models and running Lisp routines.
BricsCAD Pro.
If you do any 3D modeling or run third-party CAD applications BricsCAD Pro is the right choice.
BricsCAD Platinum
BricsCAD Platinum includes direct 3D modelling with a full 3D constraint system, Rendering with materials and lighting and access to third party applications.
BricsCAD BIM
A BricsCAD BIM license includes all Platinum features. You can use your current CAD skills to smoothly move to creating real Building Information Models in record time. One product, one workflow, all in industry-standard DWG.
BricsCAD Mechanical
On top of all Platinum features, a BricsCAD Mechanical license offers a complete mechanical design toolkit, all in .dwg. , including sheet metal functionality.
BricsCAD Ultimate
This license level combines the BIM and Mechanical licenses.
Communicator for BricsCAD
If you design for the manufacturing industry and need to exchange data with other popular manufacturing applications, you should consider adding Communicator to your Pro, Platinum, BIM or Mechanical license. Communicator running on BricsCAD Pro imports parts. When running on Platinum, BIM or Mechanical it imports full assemblies with embedded PMI (Product and Manufacturing Information).
Choose your license type
BricsCAD offers flexible licensing options so you can purchase the right software with terms that best meet your needs. You can buy a perpetual license or an annual subscription. Additional options include volume, network, and academic licensing.
Perpetual license
When you purchase a perpetual license, you own the software. And remember, BricsCAD editions run on Microsoft Windows, macOS and Linux – your choice! Pretty amazing, right?
You can choose from two options. The All-In Maintenance option includes automatic upgrades and support. It's the least expensive way to stay up to date with BricsCAD. Or, if you prefer to purchase upgrades at your discretion, you have that option!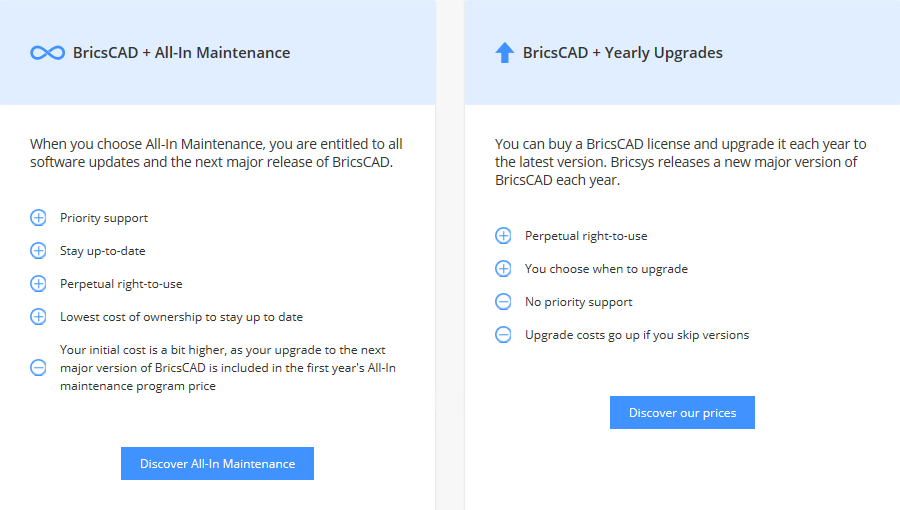 Rental license
When you choose the rental option, you have access to the latest version of BricsCAD for a year. It includes Priority Support and access to all new versions that are released during the time your subscription is active.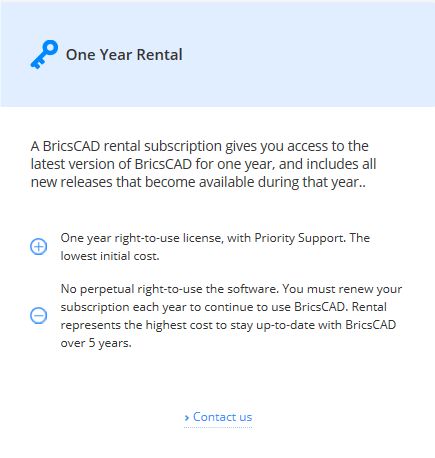 Academic license
Students, faculty, instructors, and educational institutions have free access to all BricsCAD software for 12 months. And, you can renew it yearly with a current student ID. Simply register as a student or school/teacher with your academic information.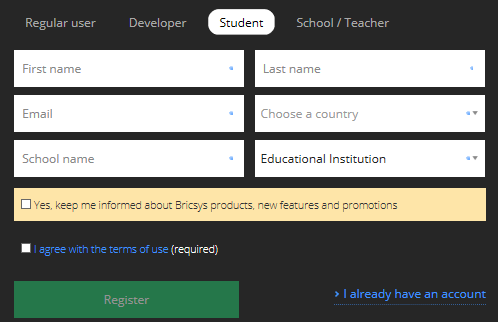 Additional license options
The most common type of license is for a single-user. However, BricsCAD is also available with network or volume licenses.
Single user license
The single user license agreement is for a single user. However, each single user license allows two activations. You can install it on two machines, for example a workstation in the office and a laptop in the field. But, only one can be in use at any time. Single user licensing is available for perpetual or rental licensing. Academic licenses for students are always single-user.
Network license
The network licensing agreement enables multiple users to access BricsCAD within a LAN (Local Area Network). The number of available network licenses defines the number of users who can concurrently use the software. The network license option is available with perpetual or rental licensing and includes a one year maintenance contract to get you started. Network licensing is also available to institutions using an academic license.
Volume license
The volume licensing agreement allows you to use BricsCAD software within a defined user base. You can install the software using a single license key valid for every user. This greatly simplifies license management. The volume license option is available with perpetual or rental licensing and includes a one year maintenance contract to get you started. And, it's the default for an institutional academic license.
Activate your trial license
Regardless of which licensing option you choose, you'll receive a license key to activate your trial. First, launch the software and then choose Enter License.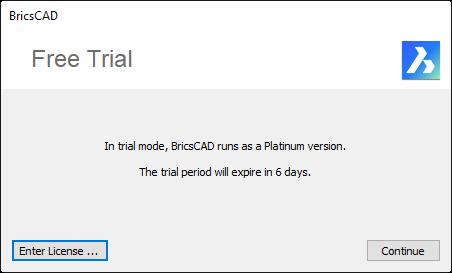 Enter your BricsCAD license key. If you're using a network license, you may have to contact your administrator for relevant server information.
See the LicEnterKey command for detailed information.
Manage your Licenses
Commands: LicenseManager, RunAsLevel
Inside BricsCAD you can view and manage your software licenses in the License Manager. It indicates your active license and enables you to upgrade to a higher license level.
Choose Buy to purchase a license for any of the modules directly from the Bricsys store.
After you obtain a license key, choose Details. Then, choose Modify and enter the key to activate the module. You must relaunch BricsCAD for the new license level to load.
Even with BricsCAD and all the modules activated, you can continue to use RunAsLevel to try the software at lower levels. If you're a CAD Manager, this can help you determine which editions and modules are best suited for various users.