Command only available on the Windows platform
Opens the Microsoft Visual Basic editing window for writing and debugging VBA code (short for "visual basic for applications integrated development environment").
Accessing the Command

command bar: vbaide
shortcut: Alt+F11
alias: vba
menu bar: Tools | VBA | Visual Basic for Applications
ribbon: Tools | Applications | Visual Basic for Applications
toolbar: Tools |

: VbaIde
Displays a window: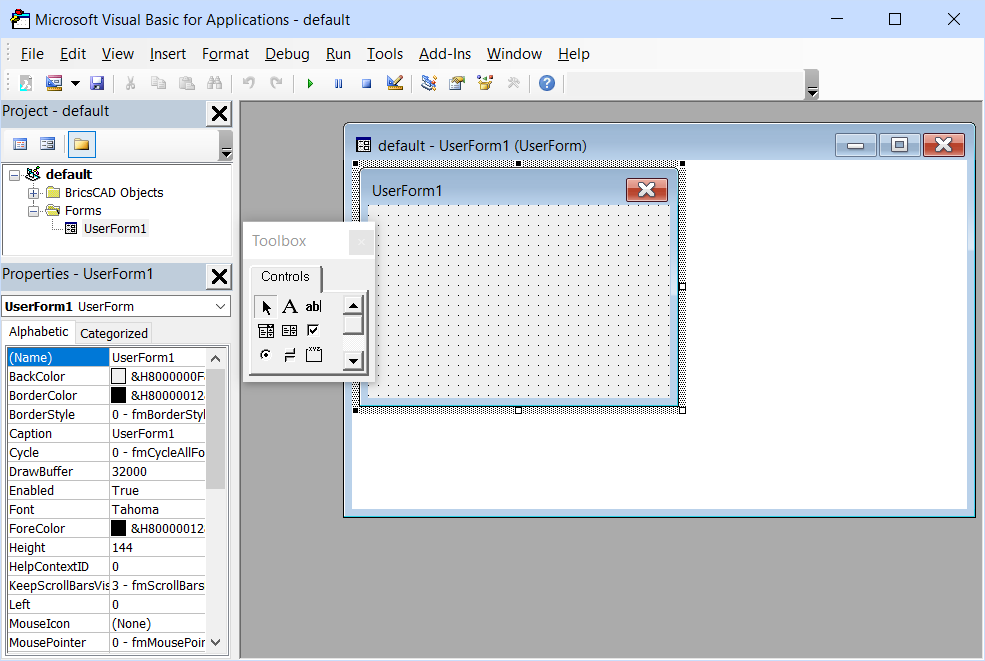 Command Options
See the help files provided by Microsoft for Visual Basic.
Related Commands
AddInMan - loads and unloads VBA functions through a dialog box.
AppLoad - selects external routines to load when BricsCAD starts.
Netload - loads a .NET application.
VbaMan - manages VBA projects.
VbaNew - starts a new VBA project.
VbaRun and -VbaRun - runs VBA macros.
VbaSecurity - depending on the selected security level (Low, Medium or High) VBA macros are allowed to run automatically or not.
VbaUnload - unloads VBA projects.