Displays images saved as SLD and WMF files (short for "view slide").
Note: WMF files are not supported by the Linux platform.
Accessing the Command

command bar: vslide
aliases: vs
vsnapshot
menu bar: Tools | View Snapshot
ribbon: Tools | Action Recorder | View Snapshot
toolbar: Tools |

: VSlide
Displays a dialog box: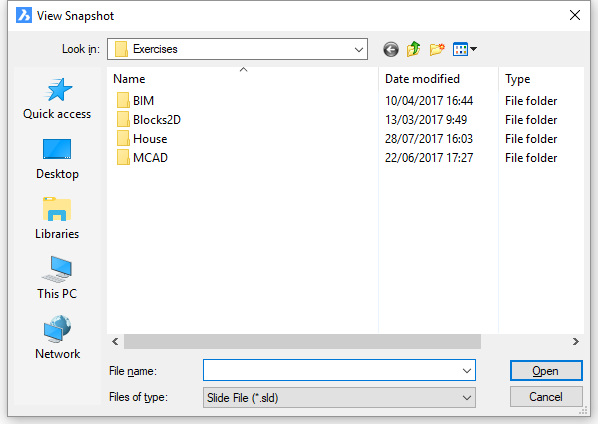 Choose a file.

Click Open.

To remove the slide from the viewport, enter the Redraw command.
Command Options
Option

Description

File name

Specifies the name of the slide file.

Files of type

Selects the file type of the slide file:

Slide File (*.sld) - proprietary graphics format created by Autodesk for saving screen grabs of viewports
Slide Library (*.slb) - collection of slide files used to display slideshows of CAD designs
Enhanced Metafile (*.emf) - enhanced WMF format
Windows Metafile (*.wmf) - hybrid raster-vector format developed by Microsoft

Open

Displays the slide in the current viewport. Enter the Redraw command to remove the slide.
Related Commands
MSlide - saves drawings in SLD, EMF, and WMF formats.
Redraw - removes the slide from the viewport.