Allows to control the relative position of the axis of a linear solid.
Accessing the Command

command bar: bimaddeccentricity
Quad: Model
: BimAddEccentricity
Prompts you in the command bar:
Select several entities/subentities: (Select a linear solid.)
Entities in set: 1
Select several entities/subentities: (Select more linear solids or press Enter.)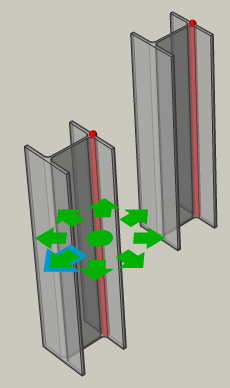 Choose base location [Accept] <Accept>: (Click a new location; type a location or press Enter.)
Command Options
Option

Description

Click the widget

Click one of the nine locations, then right click to confirm.

Type a location

The options are:

TR: Top Right
TM: Top Middle
TL: Top Left
MR: Middle Right
C: Center (resets the axes of the selection set to the default location)
ML: Middle Left
BR: Bottom Right
BM: Bottom Middel
BL: Bottom right
Procedures
Related Commands
BimApplyProfile - applies a profile to linear entities and linear solids.
BimLinearSolid - creates linear solids.
BimProfiles - opens the profiles library in the current project and the referenced library.
BimRecalculateAxis - recalculates the axis of linear building elements and repositions it back on the center line of a linear element.