Opens the profiles library in the current project and the referenced library.
Accessing the Command

Commandline: BIMPROFILES
Quad: BIM | Profiles
Ribbon: Structural/MEP | Library | Profiles
Toolbar: BIM Toolbar | BIM Databases
: BimProfiles
Displays a dialog box: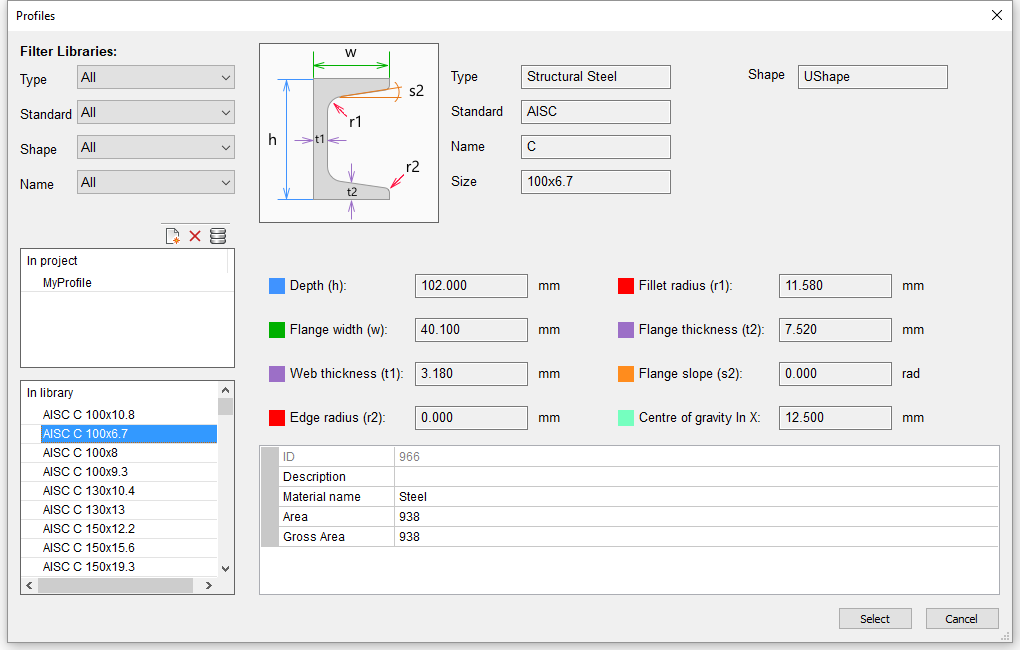 Select a profile in the In project or In library list to edit its properties.
Drag and drop profiles to copy them from the Library to the Project and vice versa.
Command Options
Description

Filters

Allows to filter the profiles list by Type , Standard , Shape and Name .

The Type options are: All , Generic , Structural Concrete , Structural Steel .

The Standard options are: All , AISC (Americal Institute of Steel Consctruction), BS (British Steel), EURO (European standard steel profiles), User Defined.

The Shape * options are: All , Circle Hollow , I Shape , L Shape , Rectangle , Rectangle Hollow , T Shape , U Shape

*Depending on the selected Standard some Shape options are not available.

The Name options depend on the selected Type , Standard and Shape option.

E.g. available options for Structural Steel / AISC / I Shape are: HP, M, S, W.

Tools

Creates a new profile.

Type: Select a type.

Name: Type a name
Size: Indicate the size of the profile.
Shape: Do one of the following:

Select a shape.

Fill out the properties grid for the selected profile:

Click the Pick Profile in Model button.
Prompts you: Pick a profile - the Profiles dialog box temporarily closes to let you select a closed 2D entity or the boundary entities of an enclosed area.

Optionally, click the buttons at the bottom of the profile preview to rotate or mirror the profile.

Deletes the selected profile

Select a profile, then right click to display the context menu:

New Profile: Creates a new profile.
Duplicate: Creates a new profile as a duplicate of the selected profile.
Delete: Deletes the selected profile.
Copy to Project: Copies the selected profile to the Project library.
Procedures
Applying profile to linear solids
Use modeling tools to create a structural steel model
Use the modeling tools to create a more detailed connection
Related Commands
BimAddEccentricity - Allows to control the relative position of the axis of a linear solid.
BimApplyProfile - Applies a profile to linear entities and linear solids.
BimLinearSolid - Creates linear solids.
BimRecalculateAxis - Recalculates the axis of linear building elements and repositions it back on the center line of a linear element.
BLCompositions - Opens the compositions library in the current project and the referenced library.