Uploads the current drawing to a project area on Bricsys 24/7.
Accessing the Command

command bar: cloudupload
menu bar: File | Bricsys 24/7 | Upload...
toolbar: Bricsys 24/7 |


ribbon: Home | Bricsys 24/7 | File | Upload
: cloudupload
If you are not yet logged on to Bricsys 24/7, the CloudLogon command is launched first.
Displays a dialog box: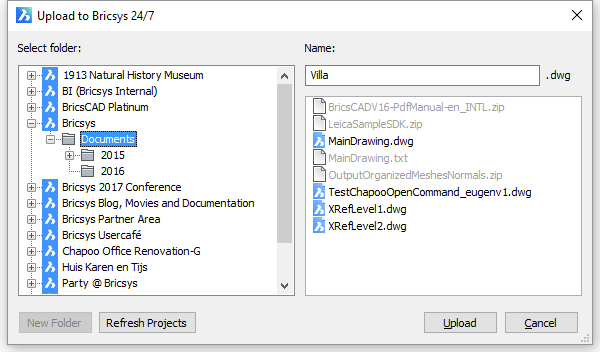 If you do not upload rights, then the folders are grayed out (unavailable to you).
Choose a project, select a folder, and then click the Upload button.
Command Options
Option

Description

New Folder

Creates a new folder as a subfolder of the currently selected folder.

Refresh Projects

Reloads the project list.

Upload

Uploads the drawing to the selected folder.

If a drawing of the same name already exists in the selected folder, the drawing is uploaded as a revision of the original drawing.

If the drawing is dependent from other files, such as external references or images, the CloudUploadDependencies user preference defines what to do:
Related Commands
CloudAccount - reports the current status of your Bricsys 24/7 account in the command bar.
CloudDownload - downloads a drawing from your Bricsys 24/7 project to a local folder.
CloudLogoff - logs off from Bricsys 24/7.
CloudLogon - logs on to Bricsys 24/7.
CloudOpen - downloads and opens a drawing from Bricsys 24/7.
CloudProject - opens your Bricsys 24/7 project in a browser.
Etransmit - creates a package of a drawing file and all its dependencies, such as: external references, images, font files, plot configuration files, plot style tables and font map files.