Creates a center mark entity associated with a selected circle, arc, or polyline arc.
Accessing the Command

command bar: centermark

alias: cm

menu bar: Dimension | Center Marks and Lines | Center Mark

toolbar: Dimensions | Center Marks and Lines | Center Mark
ribbon:
Home | Annotate | Center Mark
Annotate | Dimensions | Center Mark
: centermark
You are prompted in the command bar:
Select circle or arc: (Select a circle or a circular arc.)
Depending on the current value of the CENTERMARKEXE system variable, the center mark is drawn with or without extension lines.

Center mark only
(CENTERMARKEXE = OFF)

Center mark with extension lines
(CENTERMARKEXE = ON)
Command Options
| | |
| --- | --- |
| Option | Description |
| Select circle or arc | Select a circle, an arc, or a polyarc segment, which can be selected inside blocks and in drawing view viewports. |
The centermark is associative, so when the arc or circle is moved, the centermark repositions itself.
Procedures
Grips Editing
Center marks can be edited through grips.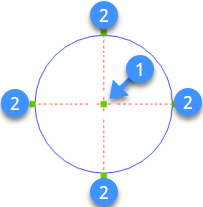 Center grip: drag the grip to move the center mark*.
Overshoot grips: drag the grip to lengthen the extension line**.
*Use the CenterReset command to reset the centerline.
**If you lengthen an extension line, it loses its associativity, and so changing the diameter does not adjust the changed extension line. It will, however, still moved along with a circle.
Related Commands
DimCenter - places non-associative center marks at the center points of circles and arcs.
CenterDisassociate - breaks the association of centerline and a center mark entities.
CenterLine - creates a centerline entity associated with two selected lines.
CenterReassociate - recreates the association between a centerline entity and two selected lines, or between a center mark and a selected circle or arc.
CenterReset - resets centerline and center mark entities.