Specifies the properties for selecting entities, through the Settings dialog box (short for "dynamic dialog selection"). This command is superseded by the Settings command.
Accessing the Command
command bar: ddselect
transparent: 'ddselect
alias: se, settings

: DdDelect
Displays the Entity Selection section of the Settings dialog box: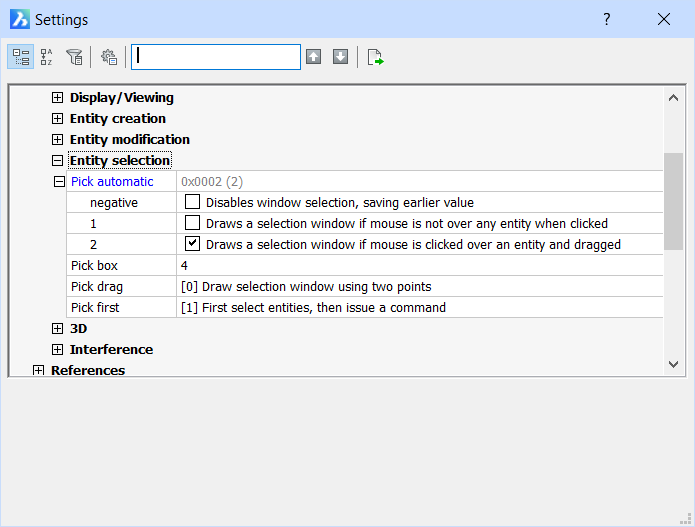 Change one or more settings, and then click X.
Command Options
Option

Description

Pick Automatic

Toggles whether BricsCAD automatically creates window or crossing selections at the 'Select entities' prompt:

negative number - disables window selection when no command is active. Requires a single pick point to select an entity, or the entry of a selection mode option when a command prompts to select entities.
1 - enables window selection if the mouse is not over an entity when you click
2 - enables window selection if the mouse is clicked when over an entity and dragged. This option is recommended when working in a rendered 3D model

Pick Box

Specifies the size of the pick box; range is 0 to 50 pixels; initial value = 3 pixels.

Pick Drag

Determines how selection windows are created:

0 - draws selection window using two points; default
1 - draws selection window using dragging

Pick First

Determines how entities are selected:

0 - first issues a command, and then selects entities.
1 - first select entities, then issues the command; default.
Related Commands
Select - selects entities.
SelGrips - elects entities and displays grips.