Displays the Prompt History window (short for "text screen"); this window displays the last 256 lines of command and prompt text.
Note: To display greater or fewer lines of command history, change the value of the ScrlHist variable.
Accessing the Command
command bar: textscr
transparent: 'textscr
shortcut: F2
menu bar: View | Prompt History Window
: TextScr
Displays window: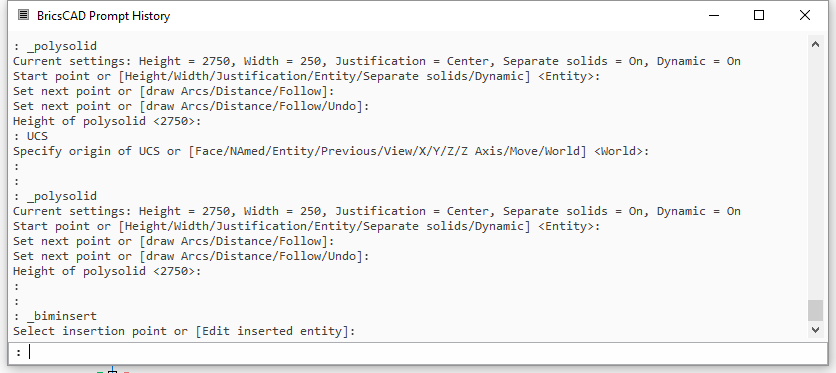 To close the window:
Click the X in upper right corner
Press the F2 function key
Enter the GraphScr command
Shortcut Menu Options
Right-click the Prompt History window for the following shortcut menu:

Option

Description

AutoComplete

Sets the autocomplete options; see the AutoComplete command

Copy

Copies selected text to the Clipboard:

Select text by highlighting with the mouse, or else using the Select All option

Choose the Copy option

Clear

Clears the history, after you answer Yes to the warning dialog box.

Caution: this option clears the history from all open drawings.

Select All

Selects all of the text in the history window; useful before using teh Copy command

Paste

Pastes text in the Command Bar. This option is available only when the Clipboard contains text.

Options

Displays the Display Section of the Options dialog box:

Scroll History - specifies the number of lines of text to remember
Related Commands
AutoComplete - sets the command line autocomplete mode.
CommandLine - displays the command bar.
CommandLineHide - hides the command bar.
GraphScr - brings the graphics window to the foreground.