SmExportOSM exports a sheet metal solid to an .osm (Open Sheet Metal) file format (native to the CADMAN-B CAM system). The .osm part is saved as mm- or inch-based, depending on the value of the document MEASUREMENT system variable. Document INSUNITS are taken into account for proper scaling.
Access the Command

command bar: smexportosm
menu bar: Sheet Metal | Unfold | Export to OSM
toolbar: Sheet Metal | Export to OSM
ribbon: Sheet Metal | Flatten | Export to OSM
: SmExportOSM
Prompts you in the command bar:
Select a sheet metal solid, flange face or lofted bend face [add Decorations]:
(Select a sheet metal body or choose an option.)
Displays a file dialog: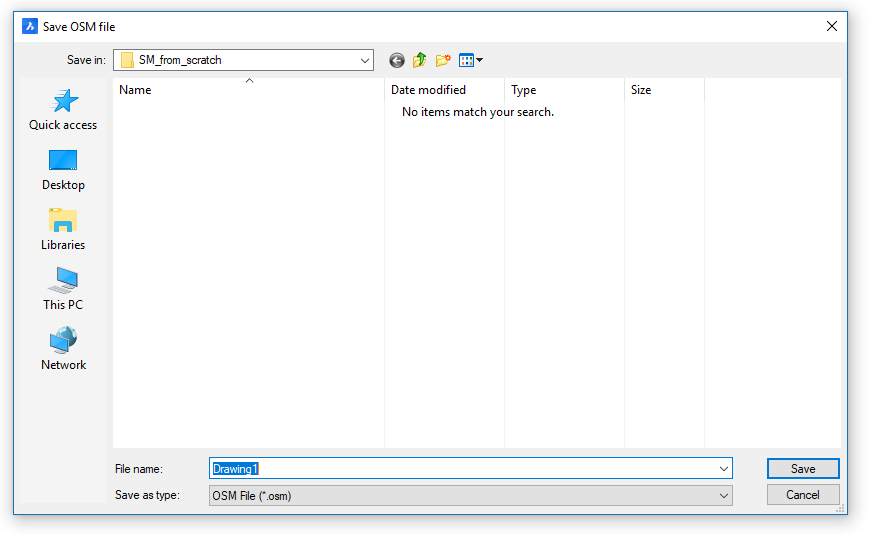 Command Options
| | |
| --- | --- |
| Option | Description |
| add Decorations | Gives the option to export adjacent non-sheet metal parts in same .osm part |
Command Settings

Accuracy of the approximation:

An OSM file format requires splines to be replaced by linear segments and circular arcs. The accuracy of this approximation (allowable deviation of a segment/arc from the spline) can be specified for each run of the SmExportOSM command.

Minimal Edge Length:

Controls the minimal length of edges in the .osm file.
Related Commands
SmAssemblyExport - traverses the Assembly Structure of the current drawing, searches for 3D solids in a component and applies the SmConvert and SmExport2d commands.
SmExport2d - exports the unfolded representation of a sheet metal body as a 2D profile in .dxf or .dwg file format.
SmUnfold - creates an unfolded 2D or 3D representation of a sheet metal part.