Loads and runs SCR script files through a dialog box.
Accessing the Command

command bar: script
transparent: 'script
alias: scr
menu bar: Tolls | Run Script
ribbon: Tools | Action Recorder | Run Script
toolbar: Tools |

: Script
Displays a dialog box: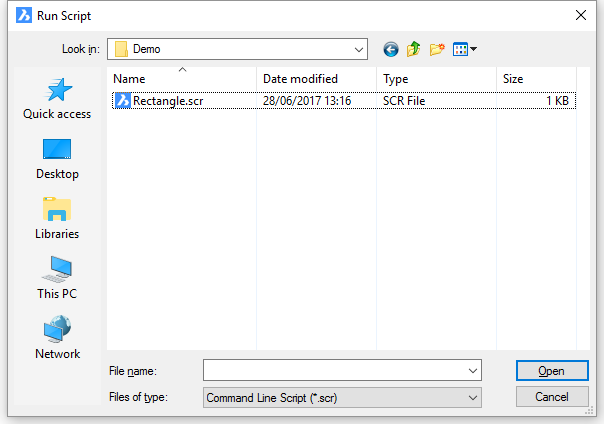 Select an SCR file.

Click Open. The script begins running immediately.
To rerun the script, use the RScript command.
To stop the script, press Esc.
For more information on writing scripts, see Customizing BricsCAD.
Command Options
| | |
| --- | --- |
| Option | Description |
| Look in | Chooses the drive and folder name. |
| File name | Specifies the name of the SCR file. |
| Open | Opens the SCR file, and then runs the script. |
Related Commands
BimPython - allows Python Scripting and Querying of a BIM model.
RecScript - records scripts to SCR files.
StopScript - stops recording the script, and saves it to an SCR file.
RScript - reruns the script.
Delay - pauses the execution of the script for the specified number of milliseconds.
Resume - resumes a stopped script.