Links entities with files and Web pages through a dialog box.
Accessing the Command
command bar: hyperlink
shortcut: Ctrl+K
menu bar: Insert | Hyperlink
: Hyperlink
Prompts you in the command bar:
Select entities: (Choose one or more entities)
Entities in set: 1
Select entities: (Choose more entities, or else press Enter to continue command)
Displays a dialog box: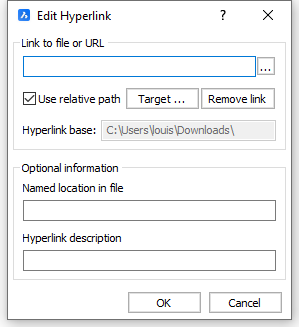 Change hyperlink options, and then click OK. Each entity can contain just one hyperlink.
Command Options
Option

Description

Link to file or URL

Specifies the hyperlink; can be the path and name of a file, networked file, or location on the Internet. Examples of hyperlink syntax

File - C:\foldername\filename.ext
Networked file - \\networkname\c\foldername\filename.ext
URL - https://www.bricsys.com or www.bricsys.com

Locations on the Internet can include Web pages (http://), FTP sites (ftp://), and so on.

...

Displays the Select File dialog box:

Choose a file name

Click Open

The program establishes a hyperlink between the entity and the file. Any type of file can be linked to.

Use relative path

Determines how the path is stored in the URL:

Yes - uses the path specified by Hyperlink base: hyperlink base + relative path = full path or URL
No - uses the actual path to the file on your computer

Target...

For hyperlinks to drawings, you can specify a saved view or a layout to be displayed when the drawing opens.

Displays a dialog box:

Select a saved view or a layout, then click the OK button.

Remove link

Removes the link from the entity

Hyperlink base

Specifies the path to relative hyperlinks; available only when Use Relative Path is turned on

Named location in file

Specifies a bookmark name. The # character specifies locations (bookmarks) within files or Web pages, such as www.bricscad.sys#bookmark.

Hyperlink description

Describes the purpose of the URL or file; this description is displayed in a optional tooltip when the cursor is paused over the entity, as specified by the HyperlinkOptions command.
Related Commands
-Hyperlink - attaches hyperlinks through the command bar.
HyperlinkOptions - sets options for hyperlinks.
Settings - sets options for hyperlinks in the Files section of the Settings dialog box.
Browser and Url - open the default Web browser.
OnWeb - opens the Bricsys home page in your computer's default Web browser.
Mail - attaches the current drawing to a message in the default email client.