Opens the folder in which the automatic save and backup files are being saved, usually C:\Users\login\AppData\Local\Temp\ by default.
Note: Use this command to quickly find AC$ and BAK files, with which you can recover "lost" files.
Accessing the Command
command bar: savefilefolder
transparent: 'savefilefolder

: SaveFileFolder
Opens a file dialog box in the folder defined by the SAVEFILEPATH variable: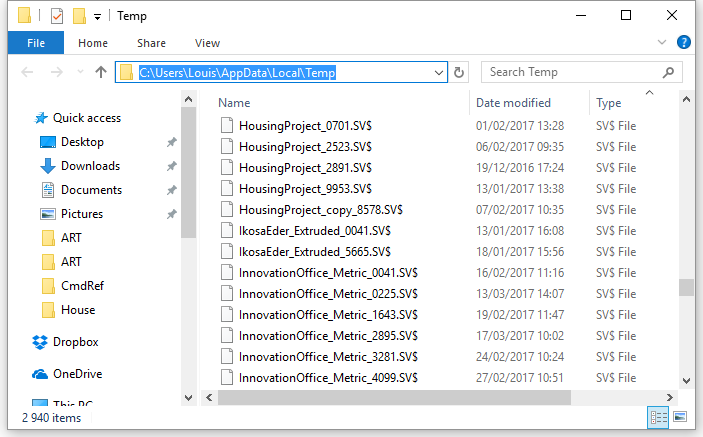 This folder holds temporary files used by many applications. This program stores the following files there:
.SV$ - automatic backup files made by the program automatically, at the interval defined by the SAVETIME variable (default = 60 minutes).
.BAK - manual backup files made each time you save the drawing, such as by pressing Ctrl+S or entering commands like Save and SaveAll.
You can change the location of the backup folder by editing the value of the SAVEFILEPATH variable in the Settings dialog box.
You can rename the extension of these files to .DWG and then open them in a CAD program.
Command Options
No command options.
Related Commands
Save - saves drawings in DWG drawing, DWT template, and DXF interchange formats.