Imports the geometry from external files into the current drawing.
NOTE

Some import formats have settings that can be changed through

Import

section of the

Settings

command.
Accessing the Command

command bar: import

alias: imp

menu bar: File | Import

: Import
Displays a dialog box: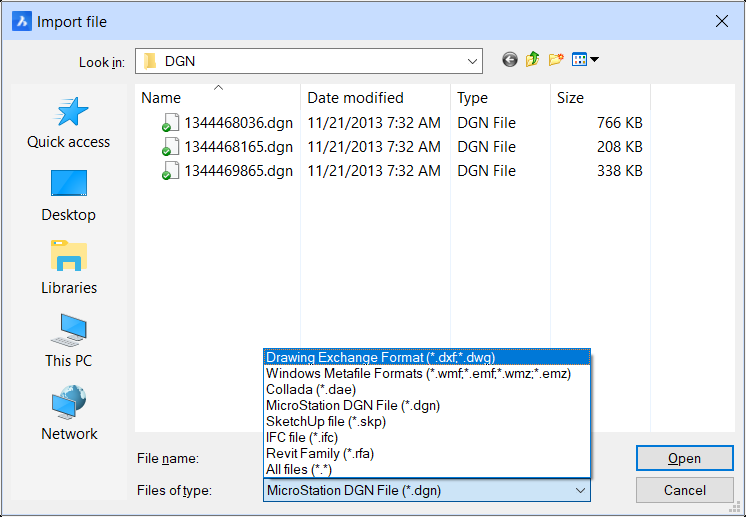 Choose a file, and then click Open. The file is opened in the current drawing.
Command Options
Option

Description

File name

Specifies the name of the file.

Files of type

Specifies the file type to show in the Import File dialog box:

DAE - Collada files
DGN - Microstation design files
DWG - drawing files
DXF - drawing interchange files
EMF, WMF, EMZ, WMZ - Windows metafiles

Formats available with the BIM add-on:

IFC - Industry Foundation Classes (IFC) data model that describes building and construction industry data.
RFA - Revit family files of symbols.
SKP - Sketchup model files.


*.skp model files are imported as meshes. If desired, the ConvToSolid and ConvToMesh commands provide easy conversion between meshes and solids.

Open

Inserts the geometry in the current drawing.
The following 3D formats are available through a separate extra-cost module,
BricsCAD Communicator; download it from the Bricsys website.
The import and export procedures using Communicator are controlled through a series of user preferences. See the Communicator section on the Settings dialog.
Format

Extension

Description

Standard for Exchange of Product data

STE, STP, STEP, STPZ

STEP (Standard for the Exchange of Product Data) is an ISO standard exchange format used for representing three-dimensional data in a format that can be recognized by multiple programs.

Initial Graphics Exchange Specification

IGS, IGES

A file format which defines a vendor neutral data format that allows the digital exchange of information among Computer-aided design (CAD) systems.

The ImportIgesStitch and ImportIgesSimplify user preferences control if geometry imported from IGES/IGS files should be automatically stitched and simplified.

In case

Inventor

IAM, IPT

Autodesk Inventor, developed by U.S.-based software company Autodesk, is 3D mechanical CAD design software for creating 3D digital prototypes used in the design, visualization and simulation of products.

Inventor uses specific file formats for parts (IPT) and assemblies (IAM).

JT

JT

JT is a 3D data format developed by Siemens PLM Software (formerly UGS Corp.) and is used for product visualization, collaboration, and CAD data exchange. It can contain any combination of approximate (faceted) data, boundary representation surfaces (NURBS), Product and Manufacturing Information (PMI), and Metadata (textual attributes) either exported from the native CAD system or inserted by a product data management (PDM) system.

CATIA V4

model

CATIA (Computer Aided Three-dimensional Interactive Application) is a multi-platform CAD/CAM/CAE commercial software suite developed by the French company Dassault Systèmes.

CATIA V5

CATPart, CATProduct

V5 of the Catia CAD program from Dassault.

PARASOLID

XMT_TXT, XMT_BIN

X_T, X_B

Parasolid is a geometric modeling kernel originally developed by ShapeData, now owned by Siemens PLM Software (formerly UGS Corp.), that can be licensed by other companies for use in their 3D computer graphics software products.

Solid Edge

PAR, PSM

Solid Edge is a 3D CAD parametric feature solid modeling software. which provides solid modeling, assembly modelling and drafting functionality.

NX

PRT

PRT is a part or model file format used by PTC Pro/Engineer, which is a CAD program that creates design parts and assembly processes.

Creo Elements
Pro Engineer

ASM, PRT

Parametric, integrated 3D CAD/CAM/CAE solution created by Parametric Technology Corporation (PTC).

Solidworks

SLDASM, SLDPRT

SolidWorks is a 3D mechanical CAD program that runs on Microsoft Windows and is being developed by Dassault Systèmes.

SLDPRT: part file, SLDASM: assembly file

The ImportSwRotateYZ user preference controls if geometry imported from SolidWorks files should be automatically rotated to map Y axis to Z axis.

VDA-FS

VDA

VDA-FS is a CAD data exchange format for the transfer of surface models from one CAD system to another. Its name is an abbreviation of "Verband der Automobilindustrie - Flächenschnittstelle", which translates to the "automotive industry association - surface data interface". Standard was specified by the German organization VDA.
If the imported assembly has physical materials assigned to its parts, the materials can be imported together with the assembly structure. For each material in the imported file, a corresponding material will be created in the target document material library, and its name, density, specific heat and thermal conductivity will be copied from the source material. If the imported file contains several materials with the same name, the first one will be used. If the document already has a material with the same name in its material library, this material will be used instead.
Materials copied to the document material library will not be erased in Undo operations.
Procedures
IFC import and export settings
Import an IFC project as Xrefs
Import/Export mapping of IFC files
Related Commands
CommunicatorInfo - checks whether the Communicator product is correctly installed and prints a diagnostic report in the Prompt History window.
dmSimplify - simplifies the geometry and topology of 3d solid entities.
DmStitch - converts a set of region and surface entities that bound a watertight area to a 3d solid.
DmAudit - fixes inconsistencies in 3d geometry supported by ACIS kernel (3D solids, surfaces).
Export - exports the current drawing in a variety of raster and vector formats.
IfcExport - exports a BIM model to IFC, partially or entirely.
Insert - inserts DWG, DXF, and DWT files.
InsertObj - inserts objects from other applications.
Load - loads SHX shape files.
VSlide - displays SLD, WMF, and EMF files.