Saves drawings in DWG drawing, DWT template, and DXF interchange formats; always displays a dialog box.
Note: This command is intended for saving drawings by different file names or format, such as ones opened in read-only mode.
Accessing the Command
command bar: saveas
shortcut: Ctrl+Shift+S
menu: File | Save As
ribbon: Home | File | Save As
: SaveAs
Displays a dialog box: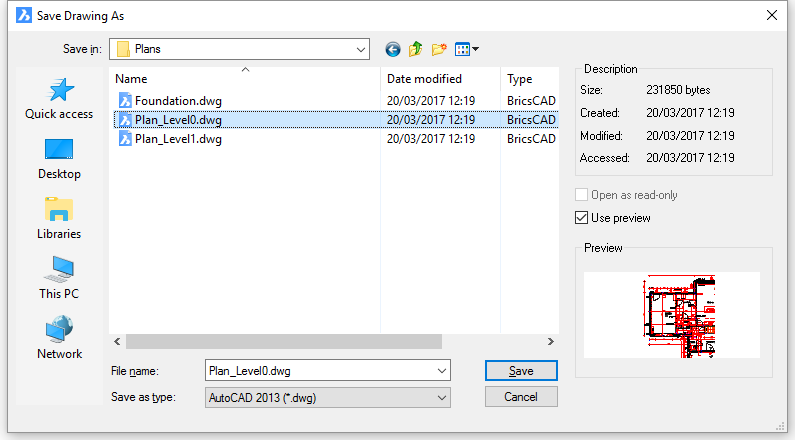 Enter a file name, and then click Save.
Use the QSave command to save drawings without seeing this dialog box.
Command Options
Option

Description

Save in

Selects the drive and folder in which to save the drawing.

Click the droplist to access additional locations.

File name

Specifies the name by which to save the drawing:

Accept the default drawing1.dwg file name
Enter another name
Click the droplist to access names of previously-saved drawings:

Save as Type

Specifies the format of the saved file. Accept the default AutoCAD 2013 (*.dwg) or click the droplist to choose another format. There are three basic formats:

DWG - drawing file
DXF - interchange file (ASCII or Binary)
DWT - template file

Use Preview

Determines whether a preview image is included with the drawing file:

Yes - includes the bitmap preview image, which is displayed by file managers and other programs
No - does not include the preview image

The preview is a bitmap (raster) image of the drawing's view at the time it is saved.

Save

Saves the drawing, and then returns to the drawing editor.

Cancel

Cancels the command: does not save the drawing, and returns to the drawing editor.
Procedures
Related Commands
BSaveAs - saves a copy of the block definition being edited in the drawing or as a separate drawing.
Export - exports drawings in a variety of vector and raster formats.
QSave - saves the drawing without displaying the Save dialog box.
Save - saves the current drawing through a dialog box.
SaveAll - saves all open drawings.
SaveAsR12 - saves drawing in older formats.
SecurityOptions - sets a password to protect a drawing