Commands: MECHANICALBROWSEROPEN, MECHANICALBROWSERCLOSE.
The Mechanical Browser panel displays the hierarchy of components, features, arrays, parameters and constraints for the current drawing in a tree structure. You can expand each node to display its child nodes (for example nested components). The Mechanical Browser allows you to edit the properties of a particular node, which display at the bottom of the panel.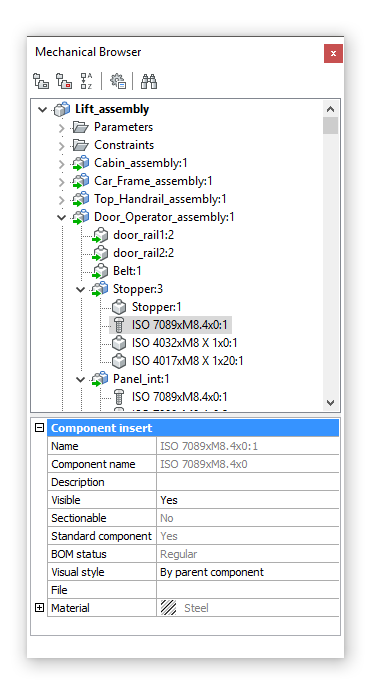 In the Mechanical Browser panel you can:
Click an item to highlight the geometry drawing.

Click an item to edit its name.

Right-click an item and launch a command in a context menu.

Edit the properties of a selected item.

Group 3D constraints and features by entity (), group elements by type (), and sort them alphabetically ().
Use the Settings icon () to control how expressions and parameters display.
Search the entire tree using the search tool ().
Opening the Mechanical Browser
Do one of the following:
Launch the MECHANICALBROWSEROPEN command.

Place the cursor on a toolbar, right-click and choose Mechanical Browser in the context menu.


Tool

Description

Group by Entity

Groups 3d constraints by entity or by mechanical component.

Group by Type

Groups mechanical components and 3d constraints in separate trees.

Expand a constraint to see the affected 3D features.

Sort Alphabetically

When selected: the mechanical components and 3d constraints are sorted alphabetically. Otherwise, the mechanical components and 3d constraints are listed in the order they were added to the assembly.

Settings for visual representation of parameters

Expressions of Constraints: controls whether the numeric value or the assigned parameter name displays.

Components Parameters: expressions at sub-components control the visual representation of sub-component parameters: numeric value or assigned parameter name.

Expressions of Components Parameters: sub-component parameters control the visibility of sub-component parameters.

Subcomponents of Standard Parts: parameters at properties add a parameters section for the selected instance to the Mechanical Browser properties.

Search field
Click the icon to type a search string. Use the Up and Down arrow buttons to go to the next or previous matching item.