Commands: MECHANICALBROWSEROPEN, MECHANICALBROWSERCLOSE.
The Mechanical Browser panel displays the hierarchy of components, features, arrays, parameters and constraints for the current drawing. They are displayed in a tree-like form: you can expand and collapse every node to see its child nodes (for example, nested components). The Mechanical Browser allows you to edit properties of a particular node, displayed at the bottom of the panel and calls different tools depending on what type is available in the context menu by right click on a particular node.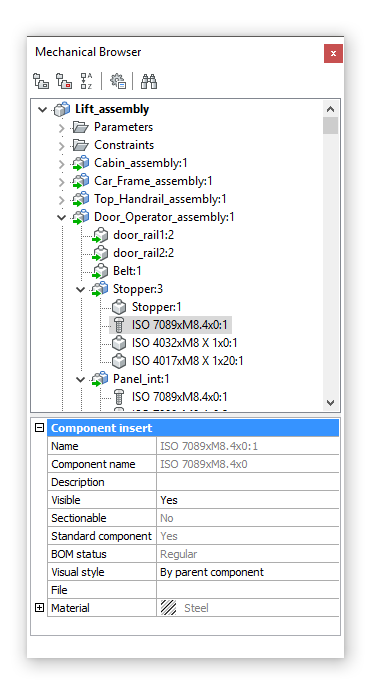 With the Mechanical Browser you can:
Click an element to highlight related geometric entities in the drawing window.

Click an element to change its name.

Right click an element to run a command for it.

Edit properties of a selected element.
You can also group 3D constraints and features by entity, group elements by type, and sort them alphabetically using the buttons in the upper part of the Mechanical Browser. Use the gear icon you can control the way expressions and parameters are visualized in the Mechanical Browser. You can also search thru the whole tree by using the search tool. To open the Mechanical Browser do one of the following:
Choose Mechanical Browser in the Assembly menu.

Call MECHANICALBROWSEROPEN command.

Place the cursor on a toolbar, then right click and choose Mechanical Browser in the context menu.
Group by Entity

Groups 3d constraints by entity or mechanical component they are applied to.

Group by Type

Groups mechanical components and 3d constraints in separate trees.

Expand a constraint to see the 3D features affected by the constraint.

Sort Alphabetically

When pressed () the mechanical components and 3d constraints are sorted alphabetically.

When depressed () the mechanical components and 3d constraints are listed in the order they were added to the assembly.

Settings for visual representation of parameters

Constraints expressions control whether the numeric value or assigned parameter name displayed.

Expressions at sub-components control visual representation of sub-component parameter: numeric value or assigned parameter name.

Show sub-component parameters control visibility of sub-component parameters.

Parameters at properties add parameters section for selected instance to the mechanical browser properties.

Search field
When pressed demonstrates the search filed which allows to type a name of an object to search in the mechanical browser.