* Command only available on the Windows platform
Sets the security level to Low, Medium, High or Very High to determine whether VBA macros are allowed to run automatically.
Note: This command helps protect your computer, because Microsoft's design of VBA applications allows them to run destructive code, which can damage files on your computer.
Accessing the Command
command bar: vbasecurity
menu bar: Tools | VBA | Security
: VbaSecurity
Displays a dialog box: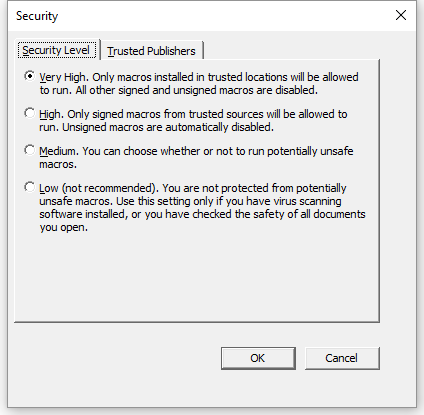 Choose a level of security

Click OK.
Command Options
Option

Description

Very High

Only VBA macros installed in trusted locations will be allowed to run. All other signed or unsigned macros are disabled.

High

Only signed macros from trusted sources will be allowed to run. Unsigned macros are automatically disabled.

Medium

BricsCAD displays a dialog box when a VBA macro runs.

The dialog box allows you to choose whether or not to run the macro.

Low

All VBA macros are run.

Trusted Sources Option

Description

Trusted Publishers

Lists the names of VBA macros that can be trusted. These are the only macros that will run when security is set to High.

Remove

Removes the selected VBA macro from the list.

Trust access to Visual Basic Project

Allows access to the VBA Project.
Related Commands
AddInMan - loads and unloads VBA functions through a dialog box.
AppLoad - selects external routines to load when BricsCAD starts.
Netload - loads a .NET application.
VbaIde - opens the VBA integrated development environment.
VbaMan - manages VBA projects.
VbaNew - starts a new VBA project.
VbaRun and
-VbaRun - runs VBA macros.
VbaUnload - unloads VBA projects.