Analyzes the model and runs automatic classification and spatial location assignment for the entire model. Creates new buildings and/or stories and spaces if necessary. Optionally creates plan sections and elevations.
Section entities are converted to BimSection entities.
Accessing the Command

Commandline: BIMIFY
Quad: BIM | Bimify

Ribbon: Home | Classify | Classify | Bimify

Toolbar: BIM Classify | Bimify

: Bimify

You are prompted:
Run Bimify on entire model or [Advanced] <Model>:
Running Bimify on the entire model will classify objects, assign spatial locations, detect spaces and create elevations and floor plan section planes in the model.
BricsCAD reports in the Prompt History panel:
BIM data assigned to 27 of 27 object(s), skipped 0 pre-assigned object(s)
 Time taken to classify 0.10 s
 Building 'Building-2': <Created>
 The spatial location has been assigned to 27 element(s).
 Time taken for creation of hatches 0.02 s
 Time taken for creation of volumes 0.06 s
 Successfully created 3 spaces*.
 Time taken in total: 0.11 s
 Determined outer walls
 Time taken in total: 0.08 s
 Creating Sections **
Choosing for the 'Advanced' option will display the following dialog: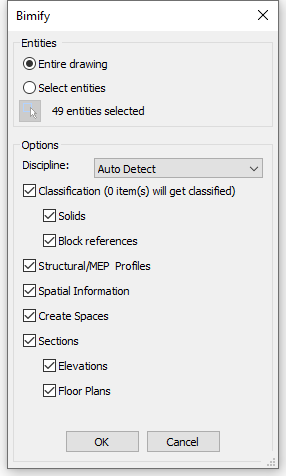 Command Options
Option

Description

Discipline

Determines to what discipline the model belongs to. This improves the accuracy of the automatic classification.

Auto Detect: an AI algorithm determines the discipline automatically.
Architectural: The model is classified as an architectural model.
Structural: The model is classified as a structural model.
MEP: The model is classified as a MEP model.
Mixed Model: The model can't be assigned to 1 discipline and is perceived as a mixed model.

Classification

See BimClassify.

Solids: Classifies 3D Solids as walls, slabs, ...
Block References: Classifies blocks as windows, doors, ...

Structural/MEP Profiles

Assigns columns, beams, members or flow segments profiles that are available in BricsCAD profile library.

If no match can be found for a profile element in the standard library, Bimify creates a new custom profile in the project's library.

Spatial Information

Assigns spatial locations (buildings and floors)

Creates spaces.

Detects external walls and sets the property Wall Common / Is External = ON.

Sections

Creates BIM Section entities.

Sections: Creates a plan section for each floor.

Elevations: Creates four elevations (Front, Back, Left and Right).
Procedures
Bimify a selection of your BIM Model
Related Commands
BimAttachSpatialLocation - Allows to attach or remove a spatial location to a selection of entities.
BimClassify - Classifies an entity as a Building Element and get a name and an internal GUID (= globally unique identifier).
BimSpace - Creates BIM space entities.
BimSection - Creates a BIM section entity.
BimSpatialLocations - Opens the Buildings & Stories manager. This explorer allows to create and edit site, buildings and stories.