Opens the Buildings & Stories manager. This explorer allows to create and edit site, buildings and stories.
Accessing the Command

Commandline: BIMSPATIALLOCATIONS
Quad: BIM | Spatial Locations
Ribbon: Home | Classify | Database | Spatial location
Toolbar: BIM Toolbar | BIM
: BimSpatialLocations
Displays a dialog box: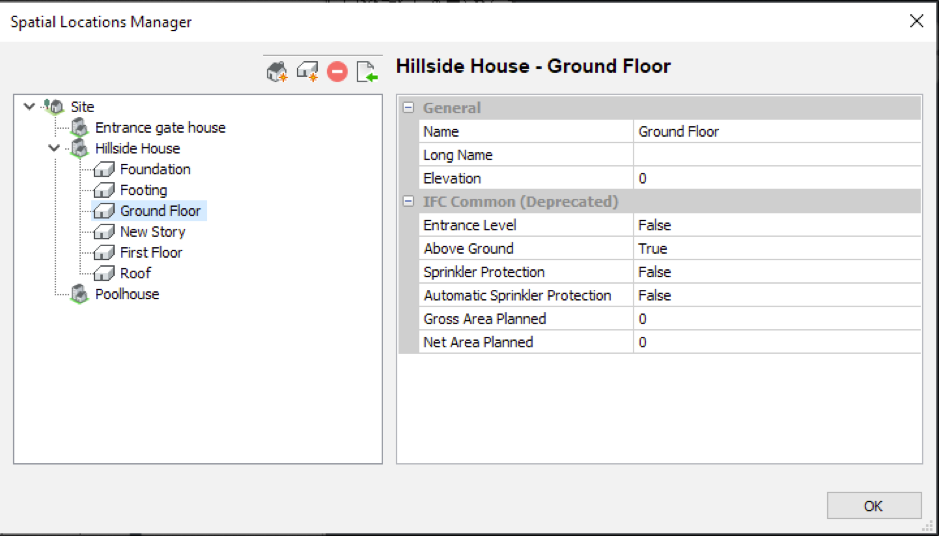 Click the Close (X) button or the OK button to close the dialog box.
Command Options
Icon

Option

Description

New Building

Adds a new building to the model.

Fill out the properties grid:

New Story

Adds a new story in the selected building.

Fill out the properties grid:

Delete

Deletes the selected building or story.

An alert box displays:

Click the Yes button to delete the selected item.

Import

Imports spatial locations from a text file.

Displays a file dialog box.

Select the *.txt file, then click Open or double click.
Procedures
Assigning a building and story to a building element
Viewing the building elements in the Structure browser
Related Commands
BimAttachSpatialLocation - Allows to attach or remove a spatial location to a selection of entities.
BimClassify - Classifies an entity as a Building Element and get a name and an internal GUID (= globally unique identifier).
Bimify - Analyzes the model and runs automatic classification and spatial location assignment for the entire model.
BimRoom - Creates Room entities.