Downloads and opens a drawing from a Bricsys 24/7 account; replaces the old ChapooOpen command.
Accessing the Command
command bar: cloudopen
menu bar: File | Bricsys 24/7 | Open...
toolbar: Bricsys 24/7 |

ribbon: Home | Bricsys 24/7 | File | Remote
:cloudopen
If you are not yet logged on to Bricsys 24/7, then the program first launches the CloudLogon command.
When you are logged in, this command displays a dialog box listing the areas of Bricsys 24/7 to which you have access: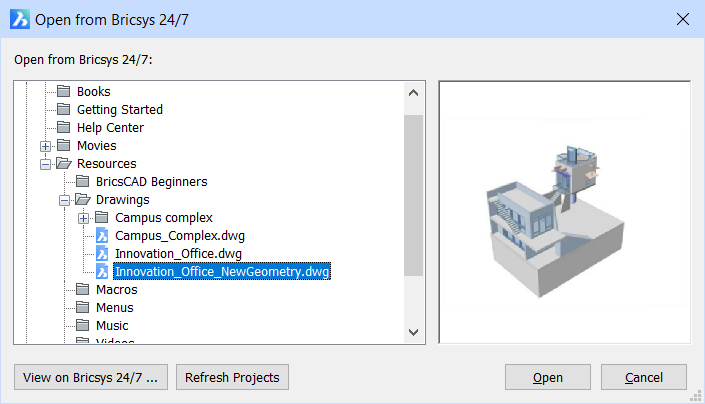 Select a file, click Open, displays another dialog box: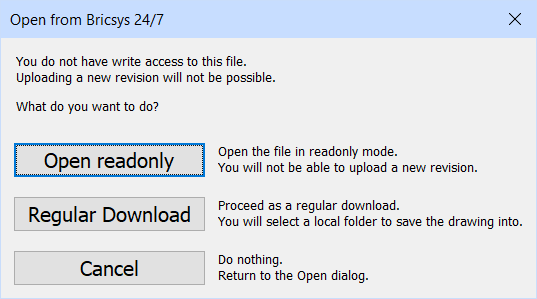 Command Options
Option

Description

View on Bricsys 24/7...

Opens Bricsys 24/7 in your computers' default Web browser.

Refresh Projects

Reloads the project list.

Open

Displays the second dialog box and opens the selected drawing.

Option

Description

Open Readonly

Downloads the file, and then opens it in BricsCAD as a read-only file, meaning that it cannot be saved by its filename. Use the SaveAs command to save it by another file name.

The file is downloaded a temporary folder specified by the CloudTempFolder preference, which has an initial value of C:\Users\<login>\AppData\Local\Temp\Bricsys_24_7.

Regular Download

Opens the Save File As dialog box:

Choose a folder.

Optionally change the name of the drawing file.

Click Save.

The program opens the drawing in BricsCAD.

Cancel

Cancels the download and exits the command.
Related Commands
CloudAccount - reports the current status of your Bricsys 24/7 account in the command bar.
CloudDownload - downloads a drawing from your Bricsys 24/7 project to a local folder.
CloudLogoff - logs off from Bricsys 24/7.
CloudLogon - logs on to Bricsys 24/7.
CloudProject - opens your Bricsys 24/7 project in a browser.
CloudUpload - uploads the current drawing to Bricsys 24/7.