Loads CUIX and CUI (user interface customization), MNU (menu), MNS (LISP code), and ICM (IntelliCAD menu) files into the program.
Accessing the Command
command bar: cuiload
transparent: 'cuiload
aliases: menuload, cuiunload
: cuiload
Displays a dialog box: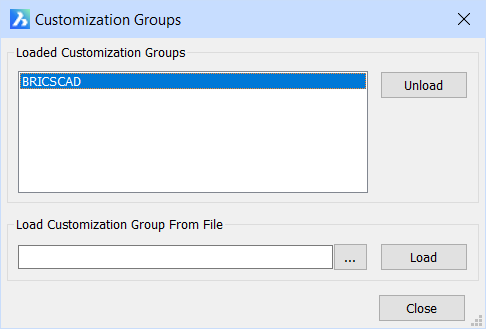 Command Options
| | |
| --- | --- |
| Option | Description |
| Loaded Customization Groups | Lists the names of customization files loaded in BricsCAD. |
| Unload | Unloads the selected customization group. Caution: unloading 'BricsCAD' causes most user interface elements to disappear. |
| ... | Displays the Choose a Customization File dialog box. Choose a CUIX, CUI, MNU, MNS, or ICM file, and then click Open. |
| Load | Loads the opened customization file. Caution: loading a customization file changes the program's user interface. |
Related Commands
AddInMan - loads and unloads VBA functions through a dialog box.
AppLoad - selects external routines to load when BricsCAD starts.
Commands - lists the names of internal and external commands.
CuiUnload - unloads menu files.
Customize - customizes the user interface.
MenuLoad and MenuUnload - loads and unloads menu files.
Netload - loads a .NET application.
VbaLoad and -VbaLoad - loads VBA projects.
VbaRun and -VbaRun - runs VBA macros.
VbaIde - opens the VBA integrated development environment.
VbaMan - manages VBA projects.
VbaUnload - unloads VBA projects.