Opens the Drawing Properties dialog box, showing the general information about the drawing and user-defined properties.
Accessing the Command
command bar: dwgprops
menu bar: File| Drawing Properties
: DwgProps
Displays a dialog box: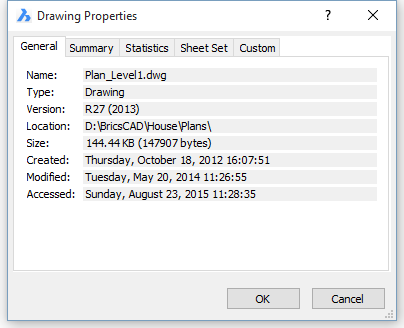 Command Options
Option

Description

General

Displays the general properties of the drawing, such as creation date and time.

Summary

Lets you define the summary properties of the drawing, such as subject and keywords. This data can be searched for by EDMS (engineering data management software) to find drawings in large collections.

Statistics

Displays statistical information about the drawing, such as when it was last saved.

SheetSet

Displays sheetset data when the drawing is associated with a sheetset.

Click Remove Association button to remove the association of this drawing with the sheetset collection.

Custom

Displays the custom properties of the drawing. Click the Add button to add a new property.

Click the Edit button to edit the selected property. Click the Delete button to delete the selected property.
Procedures
Related Commands
Field - inserts a field.
SecurityOptions - sets a password to protect a drawing
SheetSet - manages sheet sets. Opens the Sheet Sets panel.
WhoHas - reports the ownership of a drawing file.