Exports selected entities from the current drawing in DXF format (short for "drawing interchange format output").
Accessing the Command
command bar: dxfout
alias: dx

: DxfOut
Displays a dialog box: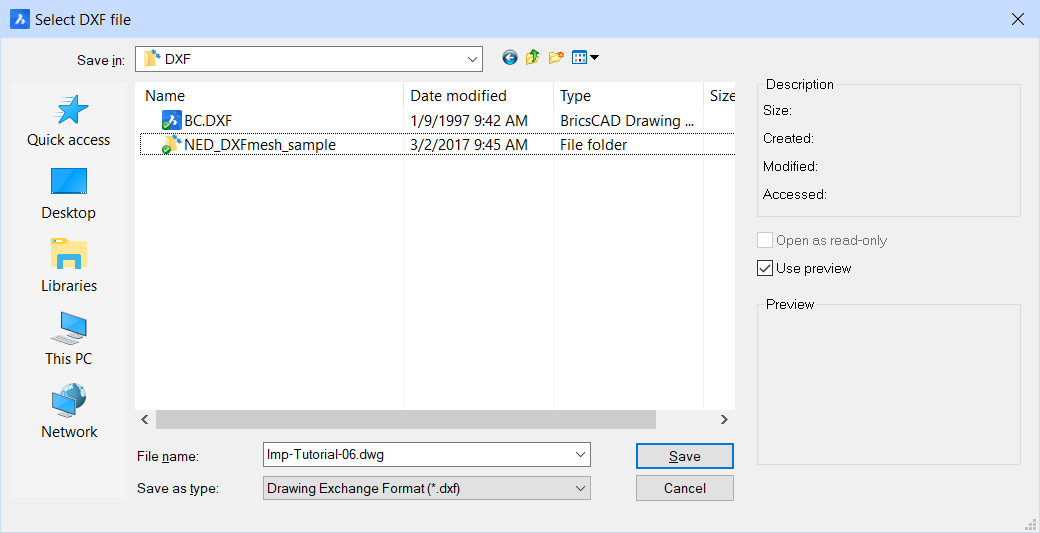 Enter a file name, and then click Save.
Prompts you in the command bar:
Enter decimal places of accuracy (0-16) [Entities/Binary/Version] <6>: (Enter an option)
Command Options
Option

Description

Enter decimal places of accuracy(0-16)

Specifies the accuracy of real numbers in the DXF file; default = 6.
(enter a number between 0 (no decimal places) and 16 or press Enter to accept the default value.)

Note: Some CNC (computerized numerical control) machines require 4 decimal places in DXF files.

Entities

Select the entities you want exported to the DXF file; prompts you:

Select entities to export - (choose the entities to export; press Ctrl+A to select all entities in the drawing)

Binary

Exports the drawing in binary DXF format; otherwise, the DXF file is in ASCII (text) format.

Version

Specifies the DXF version number in which to save the drawing; prompts you:

File version R2.5/R2.6/R9/R10/R11/R12/R13/R14/A2000/A2004/A2007 -(enter a version number.)

Caution: exporting to an older version can cause some entities or properties to be lost.
Related Commands
Export - exports drawings in a variety of formats.
DwfOut - exports drawings in DWF format.