Exports the contents of a table to a CSV or XML file.
Note: The CSV file can be imported into spreadsheet and database programs to format and further process the data.
Accessing the Command
command bar: tableexport
context menu: Export Table
: TableExport
Prompts you in the command bar:
Select Table to export: (Select a table)
Displays the Export Data dialog box: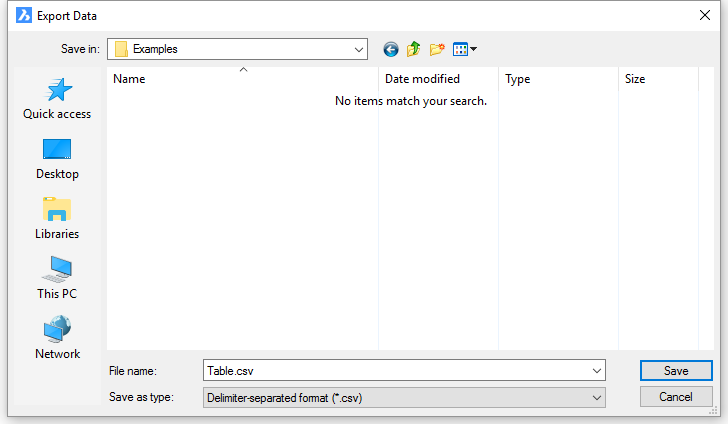 Command Options
Option

Description

Save in

Select a folder in which to save the file

File name:

Type a name for the file; the default is Table.csv

Save as type

Choose the format of the file:

Delimiter-separated format (*.csv)
XML Spreadsheet format (*.xml)

Save

Exports the cell data and creates the export file.

Cancel

Cancels the TableExport command and so does not export the data.
Procedures
Related Commands
Table - creates a table entity in the drawing through a dialog box.
-Table - creates a table entity in the drawing through the command bar.
Tablemod - modifies the properties of a selection of table cells.
Tabledit - edits the cell content.
TableStyle - creates and edits table styles through the Drawing Explorer - Table Styles dialog box.