Places multiple linear and angular dimensions, all starting at the same base point of an existing dimension. This command works only when at least one other dimension already exists in the drawing.
Dimensions are created on the layer which is specified by the DIMLAYER system variable.
Accessing the Command

command bar: dimbaseline
aliases: dba, dimbase
menu bar: Dimension | Baseline
toolbar: Dimensions |


ribbon: Draw | Dimensions | Continue | Baseline
: dimbaseline
Prompts you in the command bar:
Baseline: ENTER to select starting dimension/<Origin of next extension line>: (Pick a point to locate the second extension line, or else press Enter to pick a new starting point)
Dimension text = xx.xx
Baseline: ENTER to select starting dimension/<Origin of next extension line>: (Pick another point, or else press Esc to exit the command)
Baseline dimensions applied to a linear dimension: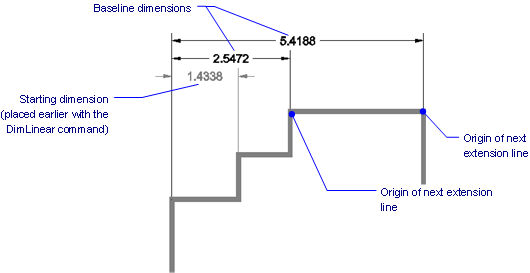 Baseline dimensions applies to an angular dimension: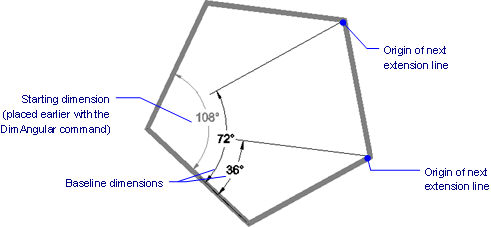 Command Options
Option

Description

ENTER to Select Starting Dimension

Chooses the linear or angular dimension from which to continue dimensioning.

Origin of Next Extension Line

Locates the endpoint of the second extension line; the first extension line is co-located with the first extension of the starting dimension.

The command repeats this prompt until you press Esc.
Procedures
Grips Editing
Baseline dimensions can be edited directly through grips:
Select the baseline dimension. Notice the grips.

Drag the grips to perform the following actions:

Drag either grip on the dimension line to move the dimension line; the extension lines change length.
Drag the grip on the text to relocate it; the dimension line moves along, and a leader line is added, if required.
Drag either grip on the extension lines to move the extension line; the dimension line changes length.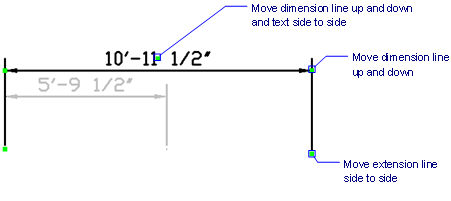 Related Commands
DimLinear - places linear dimensions in drawings: horizontal, vertical, and rotated.
DimAligned - places aligned dimensions.
DimContinue - continues dimensions.
DimDiameter - places diameter dimensions.
DimRadius - places radius dimensions.
DimCenter - places center marks.
DimAngular - places angular dimensions.
DimLeader and Leader - places leaders with text, blocks, entities, or tolerances.
DimOrdinate - places x and y ordinate dimensions.
Tolerance - places tolerance tags in drawings.
Dim - places and edits dimensions at the 'Dimensioning command:' prompt.
Dim1 - places and edits a single dimension at the 'Dimensioning command:' prompt.
DimEdit - changes the wording and angle of dimension text; changes the angle of extension lines.
DimTEdit - changes the position of dimension text.
DdEdit - edits dimension text.
Properties - edits the properties of dimensions through a palette.
DimStyle - creates and edits dimension styles through the Drawing Explorer.
-DimStyle - saves and applies dimensions styles at the command line.
Style - sets the text style used by dimensions.
DimOverride - overrides the values of the current dimension style.