Dimensions the radii of arcs. polyarcs, and circles.
Dimensions are created on the layer which is specified by the DIMLAYER system variable.
Accessing the Command

command bar: dimradius
aliases: dimrad, dra
menu bar: Dimension | Radius
toolbar: Dimensions |


ribbon: Draw | Dimensions | Circle | Radius
: DimRadius
Prompts you in the command bar:
Select arc or circle to dimension: (Choose an arc, a polyline arc, or a circle)
Dimension text = xx.xx
Location of dimension line [Angle/Text]: (Position the dimension, or enter an option)
A circle with radius dimension placed outside: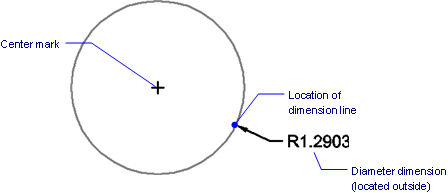 An arc with radius dimension placed inside: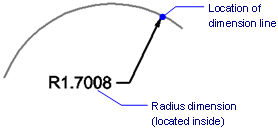 Command Options
Option

Description

Angle

Specifies the angle of the text. Prompts you:

Angle of dimension text - (specify the rotation angle of the text.)

Text

Specifies the text; useful for overriding the default measurement generated by the program. Prompts you:

Dimension text - (specifies the replacement text.)
Procedures
Grips Editing
Radial dimensions can be edited directly through grips:
Select the radius dimension. Notice the grips.

Drag the grips to perform the following actions:
Drag the grip on the circle to rotate the leader and text around the circle.
Drag the grip on the leader to relocate it and the associated text.
Drag the grip at the center of the circle to relocate the dimension anywhere in the drawing.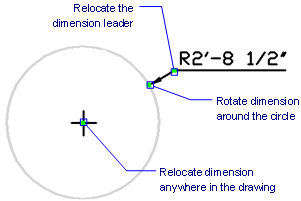 Related Commands
DimArc - Places arc length dimensions.
DimLinear - places linear dimensions in drawings: horizontal, vertical, and rotated.
DimAligned - places aligned dimensions.
DimBaseline - places additional dimensions from a common baseline.
DimContinue - continues dimensions.
DimDiameter - places diameter dimensions.
DimCenter - places center marks.
DimAngular - places angular dimensions.
DimLeader and Leader - places leaders with text, blocks, entities, or tolerances.
DimOrdinate - places x and y ordinate dimensions.
Tolerance - places tolerance tags in drawings.
Dim - places and edits dimensions at the 'Dimensioning command:' prompt.
Dim1 - places and edits a single dimension at the 'Dimensioning command:' prompt.
AiDimFlipArrow - flips individual arrows of a dimension.
AiDimPrec - changes the displayed precision of existing dimensions.
DimEdit - changes the wording and angle of dimension text; changes the angle of extension lines.
DimTEdit - changes the position of dimension text.
DdEdit - edits dimension text.
Properties - edits the properties of dimensions through a palette.
DimStyle - creates and edits dimension styles through the Drawing Explorer.
-DimStyle - saves and applies dimensions styles at the command line.
Style - sets the text style used by dimensions.
DimOverride - overrides the values of the current dimension style.