Opens an existing sheet set through a file dialog box.
Note: A sheet set is a collection of drawings used in projects that can be viewed, edited, and published (printed) as a set.
Accessing the Command

command bar: opensheetset
ribbon: Home | File | Open Sheetset
toolbar: Drawing Explorer - Sheets |

: opensheetset
Displays a dialog box: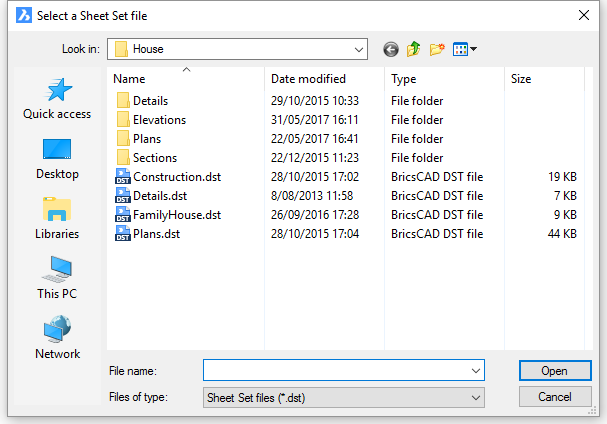 Select a sheet set file (*.dst), and then click Open.
The Sheet section of the Drawing Explorer dialog box opens; see the SheetSet command.
Command Options
No options.
Related Commands
NewSheetSet - creates a new sheet set.
-OpenSheetSet - opens an existing sheet set; prompts you in the command bar.
SheetSet - manages sheet sets. Opens the Sheet Sets panel.