Inserts field in multiline text, table cells, attributes, and so on.
Note: A field is variable text that the program updates automatically, displaying such data as drawing properties (like a file name or the saved date), entity properties (like length, area, or layer), user-defined properties, plot settings, variables, and so on. If a field has no value, the the program displays hyphens (----).
Accessing the Command

command bar: field
menu bar: Insert| Insert Field
toolbar: Insert |

ribbon: Draw | Text | Fields
: Field
Displays a dialog box: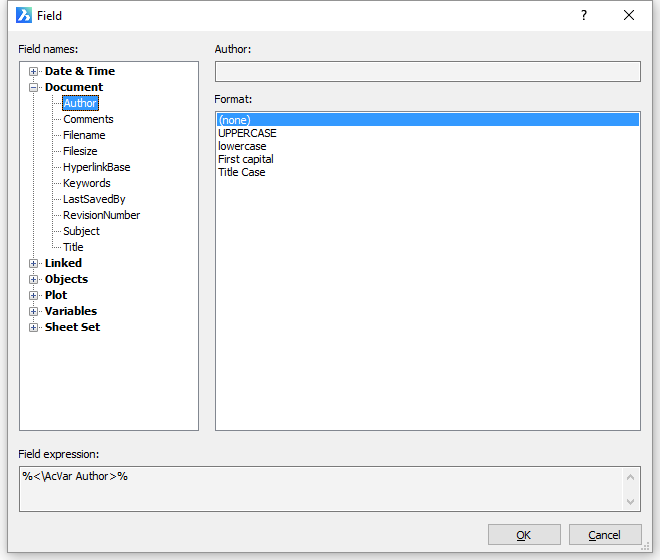 Expand a catagory in the Field Names pane, then select a field name.
The Format pane displays the format options for the selected field.
Adjust the format, then click OK.
The program prompts you in the command bar:
Specify start point or [Height/Justify]: (Enter an option)
Command Options
Field category
Dialog box
Date&Time

Select a date type.


Create date: a random date
Date: current date
PlotDate: the date the drawing was last plotted
SaveDate: the date the drawing was last saved

Select a date format in the list
or
type a format in the Date format field.

Document

Linked

Click the Hyperlink button.
The Edit Hyperlink dialog box displays.
Copy/Paste an URL in the Link to file or URL field.
or
Click the Browse () button and select a file.
Click the OK button on the Edit Hyperlink dialog box.

Objects
Plot
Variables
Sheet Set
Option

Description

Height

Specifies the text height. Prompts you:

Specify height <current height> - (enter a value for the height of the field text, or pick two points, or else press Enter to accept the current height.)

Justify

Sets the text justification. Prompts you:

Enter justification [TL/TC/TR/ML/MC/MR/BL/BC/BR]<Top Left> - (enter a justification option.)
Procedures
Related Commands
AttDef
- defines how a block's attributes will be created through a dialog box.
AttRedef
- redefines a block and updates associated attributes.
AttSync
- synchronizes attribute definitions in all block references of a specified block definition.
BattMan
- manages the attributes of a block definition.
Dwgprops
- opens the Drawing Properties dialog box, showing the general information and user defined properties stored with a drawing.
Mtext
and
-MText
- places paragraph text.
Updatefield
- updates fields in the selected Mtext entities.
Table
- creates a table entity in the drawing.