Selects all entities with the same properties as the currently selected entity.
Accessing the Command

command bar: selectsimilar
menu bar: Edit | Select Similar
ribbon: Home | Settings | Select | Select Similar
toolbar: Standard |

: SelectSimilar
Prompts you in the command bar:
Select entities or [SEttings]: (Select one or more entities, or else type SE to display a dialog box to specify the properties to match)
Entities in set: 1
Select entities or [SEttings]: (Select more entities, or else press Enter to end the command)
When you exit the command, the entities that match the properties are selected (shown as dashed and with entity grips):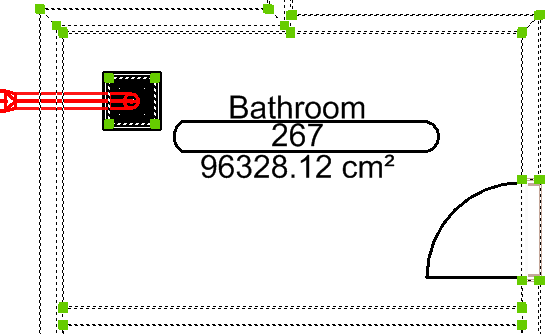 Command Options
Option

Description

Select entities

Selects representative entities, whose properties should be matched by entities elsewhere in the drawing:

Select one or more entities
Press Enter to end the command and show the selected entities

SEttings

Displays a dialog box; see below

Dialog Box Options
Enter the SEttings option to access this dialog box: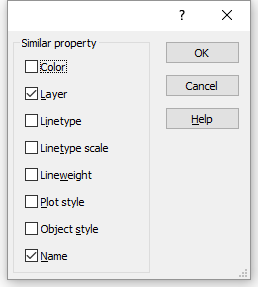 Option

Description

Similar Property

Specifies the properties that this command should match:

On - property is matched in other entities
Off - property is not matched

For this command to operate as intended, at least one property must be turned on. When all properties are turned off, this command selects only the entity(ies) you pick at the 'Select entities' prompt.

Selects all other entities with the same property as the selected entity(ies):

Color - color number or name
Layer - layer name
Linetype - linetype name
Linetype Scale - linetype scale factor
Lineweight - linetype value
Plot style - plot style name
Object style - name of the applicable style, such as text, dimension, or table style name
Name - entity type, such as line, arc, or polyline

Changing the settings in this dialog box changes the value of the SELECTSIMILARMODE variable, which is accessed through the Settings command:
Related Commands
QSelect - composes a selection set using filters.
Select - selects one or more entities; can be accessed later with the Previous option.
SelGrips - selects entities and displays grips.