* Command only available on the Windows platform
Inserts a linked or embedded document in the current drawing.
Accessing the Command
command bar: insertobj
alias: io
menu bar: Insert | Insert Object
: InsertObj
Displays a dialog box; the objects types listed varies according the software installed on your computer.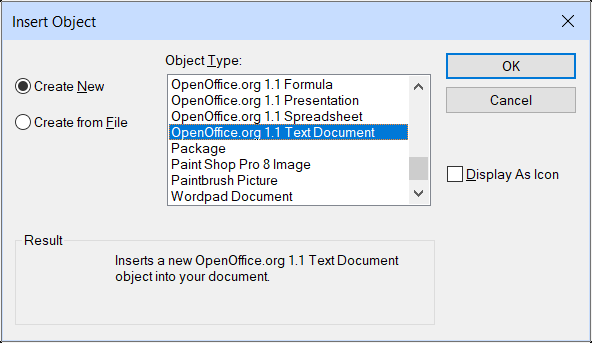 Choose an object type, and then click OK.

BricsCAD opens the related application, in which you create an object (such as a spreadsheet or diagram) or use the application's File | Open command to open a file.

When done, choose File | Close and Return to Drawing in the application. The object appears in the upper left corner of the drawing, sometimes only as a blank rectangle.
Command Options
Option

Description

Create New

Creates a new object by opening an application. These objects are also known as "OLE objects", short for Object Linking and Embedding.

Create From File

Displays a dialog box:

File

Specifies the file name of the file to be inserted.

Browse

Displays the Browse dialog box; choose a file, and then click Open.

Link

Toggles linkage to the source document:

On - links the object in the drawing to the source file, so that when the source file is changed, the linked object also changes
Off - does link not the object

Display As Icon

Displays the object as an icon. The icon is related to the document type and is defined by the source applications.

Change Icon

Displays the Change Icon dialog box:

Choose another icon

Optionally edit the label text

Click OK to return to the previous dialog box.
Grips Editing
Select an OLE object by clicking on its frame. Eight grips appear:
| | |
| --- | --- |
| Grips Editing | Description |
| Resize | Resizes the object by dragging any of the four corner grips. The aspect ratio is maintained. |
| Stretch | Stretches the object by dragging any of the four midpoint grips. The aspect ratio is not maintained. |
| Erase | Erases the selected object when the Del button is pressed. |
Related Commands
OleLinks - adjusts links of OLE entities embedded in or linked to drawings.
OleOpen - opens linked and embedded objects in the appropriate application.
PasteSpec - pastes entities in several formats.
Insert - inserts DWG files in drawings.
ImageAttach - attaches raster images to drawings.
XAttach - attaches DWG files to drawings.