Displays the Preview window so that you can check how the drawing looks before you plot it.
Note: This command does not work with the "None" printer; use the Print or PageSetup command to first specify a printer.
Accessing the Command

command bar: preview
aliases: ppreview
pre
menu bar: File | Print Preview
ribbon: Home | Print/Plot | Preview
toolbar: Standard |

: Preview
Displays a window: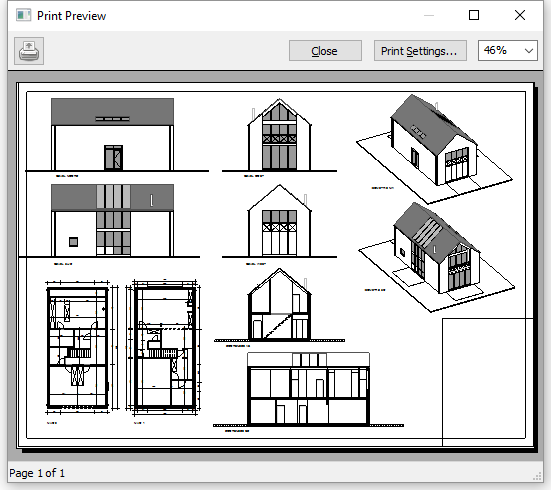 Use the mouse scroll wheel to zoom, and use the scroll bars to pan.
Click Print to plot the drawing, or click Close to return to BricsCAD.
Command Options
| | |
| --- | --- |
| Option | Description |
| Print | Prints the drawing; does not display the Print dialog box. See Print command. |
| Close | Closes the preview window and returns to the BricsCAD drawing window. |
| Print Settings | Displays the Print Settings dialog box. See PageSetup command. |
| Zoom | Changes the size of the preview; use the scroll bars to pan. |
Related Commands
Print - prints drawings through a dialog box.
Plot - plots drawings through the command bar.