Generates a photo-realistic rendering using materials and lights, through a dialog box.
Note: When a drawing contains only 2D entities, the result is a blank rendering.
Accessing the Command

command bar: render
alias: rr
menu bar: View|Rendering - Render
ribbon: View | Render Modes | Render
toolbar: Render|

: Render
Displays a dialog box: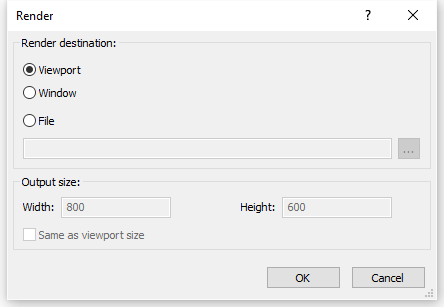 Reports the current render mode:
Current render preset: 'Medium"
When the rendering appears in a window, the red square shows which part is currently being rendered: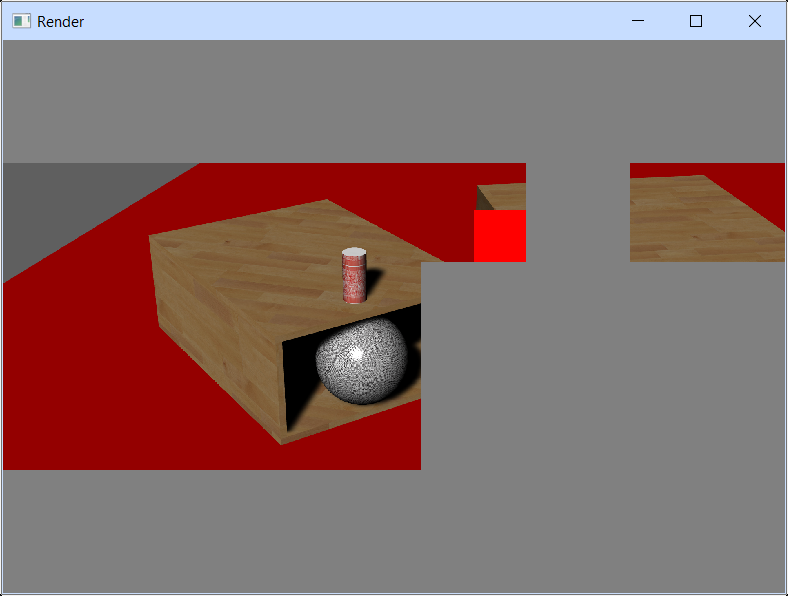 Dialog Box Options
Option

Description

Render destination

Specifies where the rendering will appear:

Viewport - the rendering is generated in the current viewport
Window - the program opens a new windows, and then generates the rendering in it
File - the rendering is saved to a file:

Click the Browse button to open the Render output file dialog.

(Optional) Select an output folder in the Save In droplist.

Type a name in the File name field.

Select an image file type from the Save As Type droplist:
BMP - Windows bitmap format; largest file size as it is uncompressed
JPEG - highly compress raster format; smallest file size but suffers from artifacts
PNG - compressed raster format; medium file size with no artifact problem

Click Save.

Output Size

Specifies the size of the rendering, in pixels. Larger sizes provide more detail but take longer to render:

Width - specifies the width of the rendering, in pixels
Height - specifies the height of the rendering, in pixels
Same as viewport size - matches the ouput size or the size of the output window to the current viewport size.

OK

Starts calculating the rendering according to the settings established by the RenderPresets command.

The ANTIALIASRENDER variable controls the amount of anti-aliasing (edge smoothing) applied during the rendering generation. The default value is 1, maximum value is 5. Note: high anti-alias values incur a high calculation cost.
Procedures
Related Commands
AniPath - records the animation of a camera moving along a path or panning in a 3D model and saves it to a movie file.
-Render - generates a photorealistic rendering using materials and lights through the command bar.
RenderPresets - allows to create and edit render presets, and to set the current render preset through a dialog box.
Background - sets the model space background for the current viewport and saved views.
Distantlight - creates a distant light.
Hide - removes hidden lines from 3D entities.
Light - creates a new light in the drawing.
Lightlist - displays the Drawing Explorer - Lights dialog window.
Materials - creates materials and edits their properties through the Drawing Explorer.
Pointlight - creates a point light.
RedSdkInfo - displays rendering related hardware and driver specifications in the command bar.
Shade - generates shaded images of 3D drawings.
ShadeMode - sets the shading style for 3D entities.
Spotlight - creates a spot light.
Sunproperties - displays the Sun Properties of the Active Viewport editor in the Drawing Explorer - Lights dialog.
VisualStyles - creates and controls visual style definitions in the Drawing Explorer.
Weblight - creates a web light.