Enters a license key number in a dialog box (short for "licence enter key")
Notes: A licence number is required to run BricsCAD longer than 30 days. A separate license key is required for each of the Classic, Pro, and Platinum version of BricsCAD, and for the BIM, Mechanical, and Communicator add-ons.
Accessing the Command
command bar: licenterkey
transparent: 'licenterkey
: LicEnterKey
Displays a dialog box: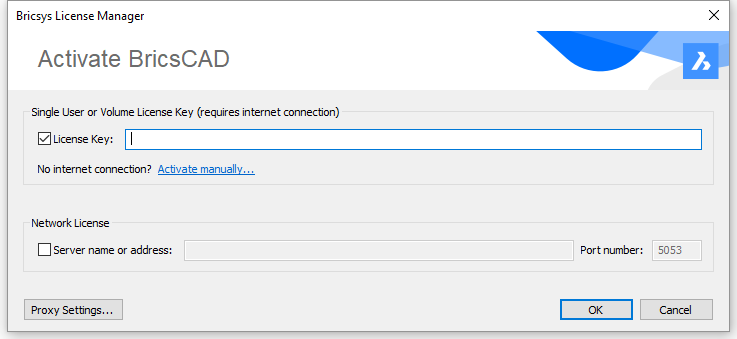 Enter your license information, and then click OK.

Close BricsCAD, and then restart it.
Use this command only to change the license number. To view the license number, use the LicProperties command.
Command Options
Option

Description

License Key

Activates a single-user license and a volume-license key for computers connected to the Internet:

Enter a license key in the License Key field.

Press the OK Button.

Wait for the license to be activated over the internet.


A license file is created on your computer.

Activate manually...

Activates a single-user or volume-license key on a computer not connected to the internet. For this to work, your computer must be connected to another computer with an internet connection, as it is needed to retrieve a valid license file from the BricsCAD license server.

Logon to your account on the Bricsys website and select Licenses and support contracts.



Click the Manage button of the license you want to activate.

Copy/paste the computer host ID of the computer you want to install BricsCAD on in the Host ID field.




Click the Activate button. A license file is generated and made available for download.


Click the Download License File button to download the BricsCADVxx.lic file.

Copy the license file to the computer onto which you want to install BricsCAD.

Click the Browse button () in the Bricsys License Manager - Manual Activation dialog box.

Select the license file.

Click OK.

Network License

Retrieves a network license from a license server:



Enter the host name or IP address of the license server in the Server name or address field.

Type the port number in the Port Number field.

Click OK.

Proxy Settings...

Specifies proxy settings when your computer connects to the internet or a local network through a proxy server:

Enter a name or IP address in the Host Name field.

Specify a number in the Port Number field.

If necessary, turn on the Username option, and then enter a username and password.

Click OK.
Related Commands
Status - reports on the state of the drawing.
LicProperties - reports the license number and owner.
LicenseManager - displays the License Manager dialog, summarizing your available licenses (BricsCAD / BIM / Mechanical / Communicator).