Loads SHX shape files into the current drawing.
Note: This command works only with shape SHX files, and not with font SHX files. Use the Text and MText commands to work with font SHX files.
Accessing the Command
command bar: load
: Load
Displays a dialog box: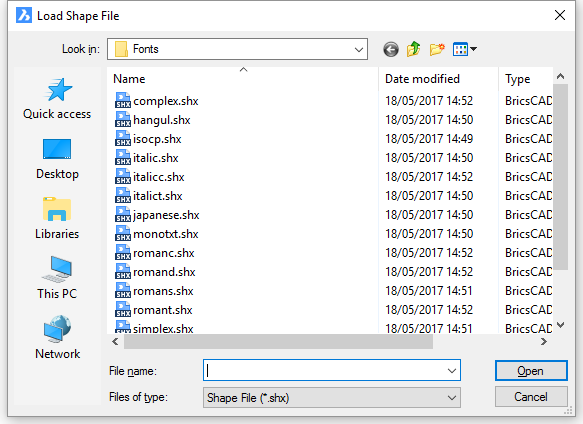 Choose an SHX file, and then click Open. Shapes are placed with the Shape command.
SHX files are compiled SHP shape files, which are used to define fonts, shapes, and complex linetypes. See the Customizing BricsCAD reference guide on creating custom shapes.
Shapes are an early version of highly efficient blocks, but are difficult to create. This command remains in BricsCAD for compatibility reasons.
Command Options
No options.
Related Commands
Shape - inserts shapes into drawings.
Insert - inserts blocks into drawings.