Allows to set up a connection with a Web Map Service through a dialog box.
Note: Before adding map data to a drawing with this command, you must run the GeographicLocation command to define the geographic location of the drawing.
Accessing the Command
command bar: mapconnect
: MapConnect
Displays a dialog box: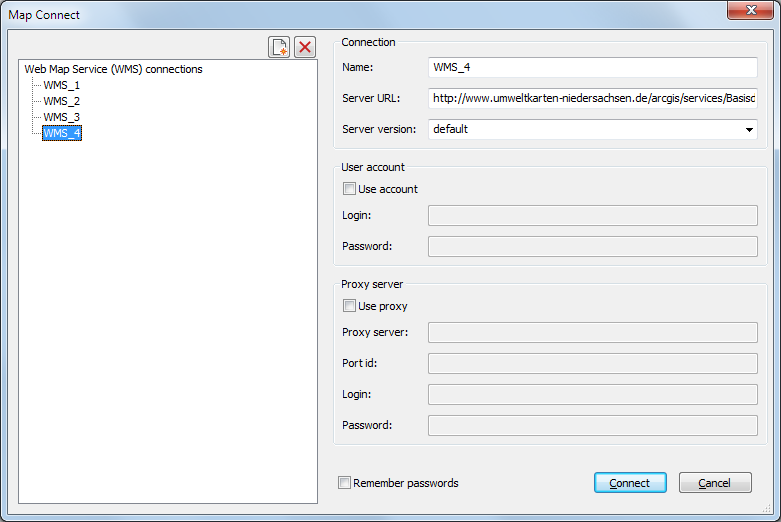 Command Options
Option

Description

Name

(Optional) Names the connection. Type a name to replace the default WMS<x> name. The ten most recently used connections are saved.

Server URL

Specifies the URL of a Web Map Service.

Server version

Specify a server version, or else select one from the droplist.

User Account Option

Description

Use Account

Off - no login or password needed
On - the Web Map Service need a valid login and password to access it

Login

Specifies the login information

Password

Specifies the password

Proxy Server

Description

Use Proxy

Off - a proxy server is not being used
On - specify a proxy server to connect to the Web Map Server

Proxy server

Specifies the URL of the proxy server

Port Id

Specifies the port to use for the connection

Login

Specifies the login for the proxy

Password

Specifies the password for the proxy lognin

Remember passwords

Off - the program does not remember your passwords for greater security
On - passwords will be remembered for future use

Connect

Connects to the map server and then displays the Select Map Data dialog box
A dialog box displays: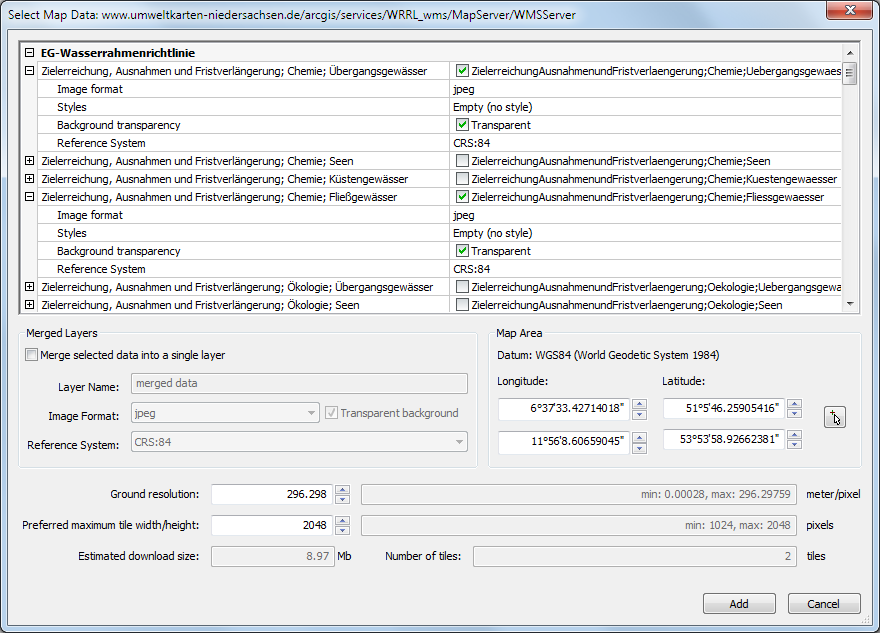 Do the following:
Select one or more data layers.

Specify the desired ground resolution and the preferred maximum dimensions of a tile.

An estimate of the download size displays in the Estimated download size field.

Press the Add button.
The program stores downloaded map tiles as regular image files in the folder in which the drawing is saved.
The definition of the supported Coordinate Reference Systems (CRS) is stored in the new geodatabase.xml file located in the folder pointed to by the ROAMABLEROOTPREFIX variable, such as C:\Users\John\AppData\Roaming\Bricsys\BricsCAD\V15x64\en_US\Support
The geodatabase.xml files lists cities and their WGS84 geo coordinates used by the Choose Location function of the Geographic Location dialog box.
Related Commands
Geographiclocation - sets the geographic location of the drawing.
Image - inserts images in drawings through the Drawing Explorer.