Loads a variety of menu files into the program that modify its user interface.
Accessing the Command

command bar: menu
menu bar: Tools | Load menu
ribbon: Tools | Customization | Load Menu
toolbar: Tools |

: Menu
Displays a dialog box: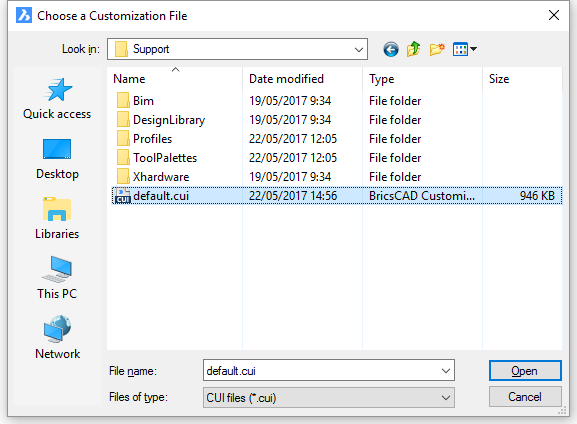 Choose a menu file, and then click Open.
Command Options
Option

Description

File name

Specifies the name of the menu file.

File type

Specifies the format of menu file:

CUI - compatible with AutoCAD 2007 and later
ICM - compatible with IntelliCAD menu files
MNU - compatible with AutoCAD 2006 and earlier
MNS - LISP source code used with MNU files

Open

Opens the menu file.

Caution: loading a menu file can replace the user interface of BricsCAD unexpectedly.
Related Commands
CuiLoad and CuiUnload - loads and unloads menu files.
Customize - customizes the user interface.
Menu - loads menu files into BricsCAD's user interface.
MenuLoad - loads CUI (user interface customization), MNU (menu), MNS (LISP code), and ICM (IntelliCAD menu) files.
MenuUnload - unloads menu files.