Lists all files, containing component definitions inserted in the assembly, in the command window.
Accessing the Command
command bar: bmdependencies
menu bar: Assembly | Dependencies
toolbar: Assembly | Dependencies
ribbon:
Home | Assembly | Dependencies
Assembly | Tools| Dependencies
: bmdependencies
Reports in the command bar: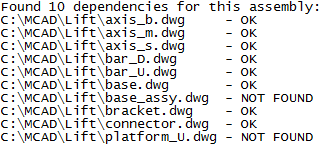 Command Options
No options.
Related Commands
MechanicalBrowserOpen - displays the Mechanical Browser.
BmRecover - recovers a broken mechanical structure.
BmUpdate - reloads all referenced components from external files and updates BOM tables.