Opens drawing (DWG), template (DWT), and interchange (DXF) files in new document tabs.
Note: To open a drawing in an existing drawing, use the Import or Insert commands.
Accessing the Command

command bar: open
shortcut: Ctrl+O
aliases: op, im, import
menu bar: File | Open
ribbon: Home | File | Open
toolbar: Standard |

: open
Displays a dialog box: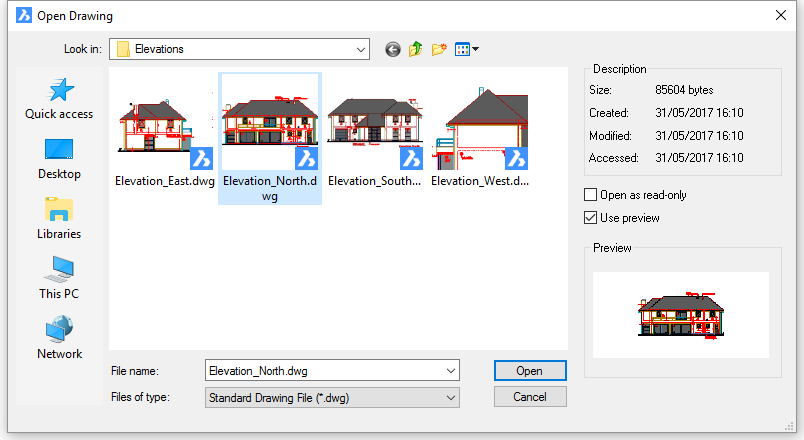 Choose a file, and then click Open.
Command Options
Option

Description

Look in

Selects the drive and folder.

File name

Specifies the name of the file.

Files of type

Selects the type of file:

DWG - CAD drawing file
DWT - drawing template file
DXF - drawing interchange file

Open

Opens the file in a new document tab.

Cancel

Closes the dialog box without opening a file.

Open as read-only

Toggles opening the drawing in read-only mode

Yes - opens the file in read-only mode, and displays [Read-Only] on the program's title bar
No - opens the drawing normally

The drawing cannot be saved to the same file name, so to save changes to the drawing, use the SaveAs command to save it by a different name.

Use Preview

Toggles the display of the the preview image:

Yes - displays a preview image in this dialog box
No - does not display the image
Procedures
Related Commands
Close - closes the current drawing.
Quit - exits BricsCAD after closing open drawings.
New - starts new drawings.
SecurityOptions - sets a password to protect a drawing
WhoHas - reports the ownership of a drawing file.
WorkSets - creates and loads a set of drawing files. Allows to work with a named group of drawings.