Toggles orthographic (ortho) mode, which constrains drawing and editing to 90-degree angles.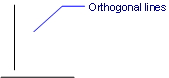 Accessing the Command
command bar: orthogonal
transparent: 'orthogonal
shortcut: F8
Ctrl+L
keyboard shortcut: hold down Shift key while moving the cursor during editing and drawing
aliases: or
ortho
menu bar: Settings | Draw Orthogonal
ribbon: Settings | Draw Orthongal
toolbar: Settings |


status bar: ORTHO
: orthogonal
Prompts you in the command bar:
ORTHOMODE is currently off: ON/Toggle/<Off>: (Enter an option)
Command Options
Option

Description

ON

Turns on orthogonal mode.

Toggle

Toggles orthogonal mode:

if on, turns it off
if off, turns it on

OFF

Turns off orthogonal mode.
Status Bar Menu
Right-click ORTHO on the status bar for the shortcut menu:


Shortcut Menu

Description

On

Turns on orthographic mode.

Off

Turns off orthographic mode.

Settings

Opens the Coordinate Input section of the Settings dialog box.

Orthogonal mode

Toggles orthogonal mode:

On - turns on ortho mode
Off - turns off ortho mode
Related Commands
Snap - sets the ortho angle.
Settings - sets the parameters for ortho mode.