Records keystrokes to an SCR file for playback with the Script command (short for "record script").
Accessing the Command

command bar: recscript
menu bar: Tools | Record Script
ribbon: Tools | Action Recorder | Record Script
toolbar: Tools |

: RecScript
Displays a dialog box: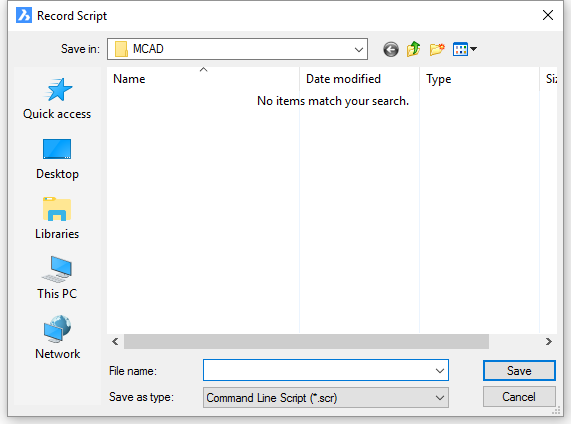 Specify a file name, and then click Save.

Enter drawing and editing commands, and pick points in the drawing.

When done, enter the StopScript command.

To playback scripts, use the Script command.
Command Options
| | |
| --- | --- |
| Option | Description |
| File name | Specifies the name of the SCR script file. |
Related Commands
StopScript - stops recording the script, and saves it to an SCR file.
Script - loads and runs a SCR script file.
RScript - reruns the script.
Delay - pauses the execution of the script for the specified number of milliseconds.
Resume - resumes a stopped script.