Saves the drawing immediately, without displaying the Save dialog box (short for "quick save").
Accessing the Command

command bar: qsave
shortcut: Ctrl+S
menu bar: File | Save
toolbar: Standard |

: QSave
When the drawing has never been saved before
When the drawing is opened as read-only
Displays a dialog box: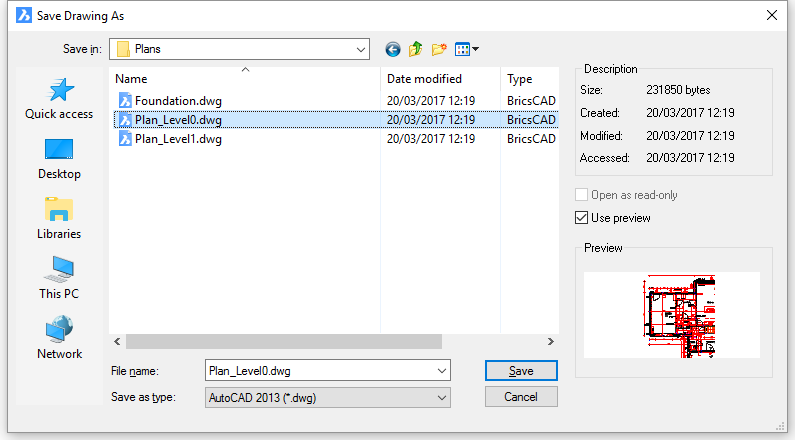 (Optional) Enter a file name or accept the default name generated by the program, such as 'Drawing1.dwg'.

(Optional) Choose a folder in which to save the drawing.

(Optional) choose a file format from the Save As Type droplist.

Click Save. See the Save command.
When the drawing has been already saved at least once:
Displays no dialog box or prompt in the command bar. To save the drawing by another name, use the Save command.
Command Options
No options.
Related Commands
Save - saves the current drawing through a dialog box.
SaveAll - saves all open drawings.
SaveAs - saves drawings by another name.
SaveAsR12 - saves drawing in older formats.
Export - exports drawings in a variety of vector and raster formats.